Discover and experience the cooking trends of 2019
New trends emerge every year. So what does 2019 have in store for your kitchen? Novy follows the latest trends closely. Discover them below!
1. A few shades darker
Choosing to use black in the home shows daring and character; it is a little feisty but creates the appearance of luxury too. The black RAL 9005 extra matt finish provides the hint of drama which is what 2018 is all about. You can discover a number of Novy's leading creations in black.
Combine

 

the popular Pure'line ceiling unit with a warm kitchen.
Do you have a dark wall or alcove? The black Mini Pure'line or Flat'line wall cooker hood will complete the picture.
The integrated cooker hood and hob units, Panorama and One, completely disappear into the work top with their black design. 
Mood, the suspended

 

cooker hood that looks more like a light fitting

, is also available in black.
 2. Open kitchen and kitchen island
More and more of us are choosing to have a kitchen island or open kitchen. So what do you do about the cooker hood? Novy has the answer:
The One Pro was the first hob with integrated cooker hood that disappears immediately after cooking. You can install the One anywhere in the kitchen because you do not need a ceiling or wall.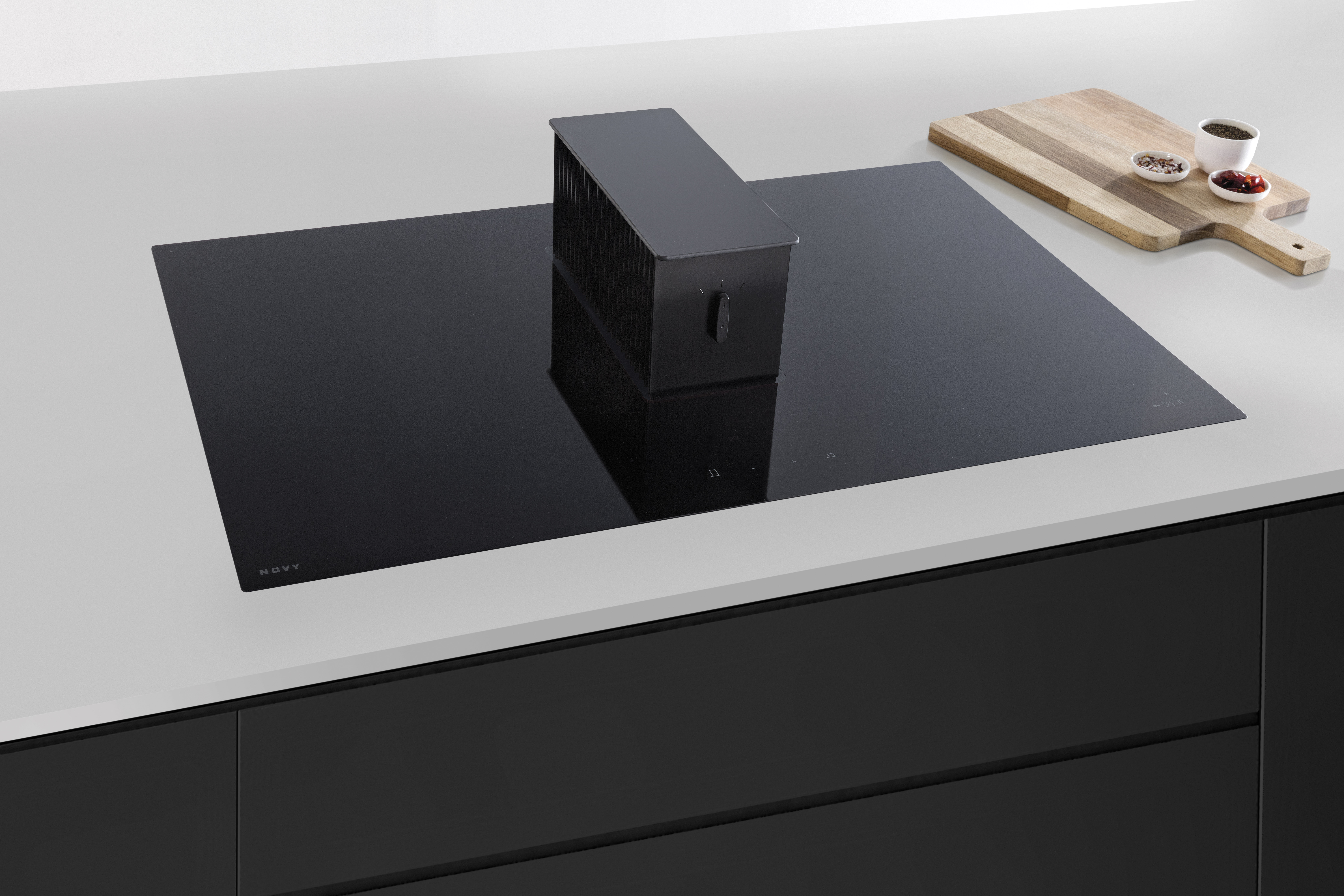 The extraction tower is between the four cooking zones of the induction hob, and at the same level as the pots and pans. The tower extracts odours and fumes very effectively and quietly. Its successor is the new One Power. The One Pro is operated by means of a slider with white LED lights, but the One Power has red touch control operation and basic functions.
Design in your kitchen? Novy Panorama, the very latest hob and cooker hood in one, is literally a gem. The sleek, black extraction tower made of semi-transparent glass creates an impression of perfection and high quality.
The extraction tower is conveniently and stylishly located at the back of the hob, giving you even more freedom of movement. The extremely quiet extraction tower also has four adjustable levels (10, 20 or 30 cm), for optimised, efficient extraction at the same level as your pots and pans. Finished cooking? The extraction tower disappears back into the hob.
3. Maximum freedom in your kitchen
Thanks to Novy you are no longer limited by the ducts that vent your fumes and odours to the outside. Recirculation is an energy-efficient technology that processes fumes and odours indoors. The solution for energy-efficient homes and kitchens where an external outlet is not an option. Perhaps the next step is a cooking island on wheels...