Steal the show with this open lasagna with pumpkin and spinach
Unusually simple, yet quite refined. You can say that about this open lasagna as well as about the kitchen in which it is prepared: with Cloud Black and an induction hotplate from Novy with InTouch function. Thanks to the InTouch function, communication between the hob and extractor is flawless. The keep-warm function keeps your pumpkin puree warm while the spinach is stewed. Time to serve? Then adjust the lighting, so that Cloud Black  radiates a pleasant mood light in the background.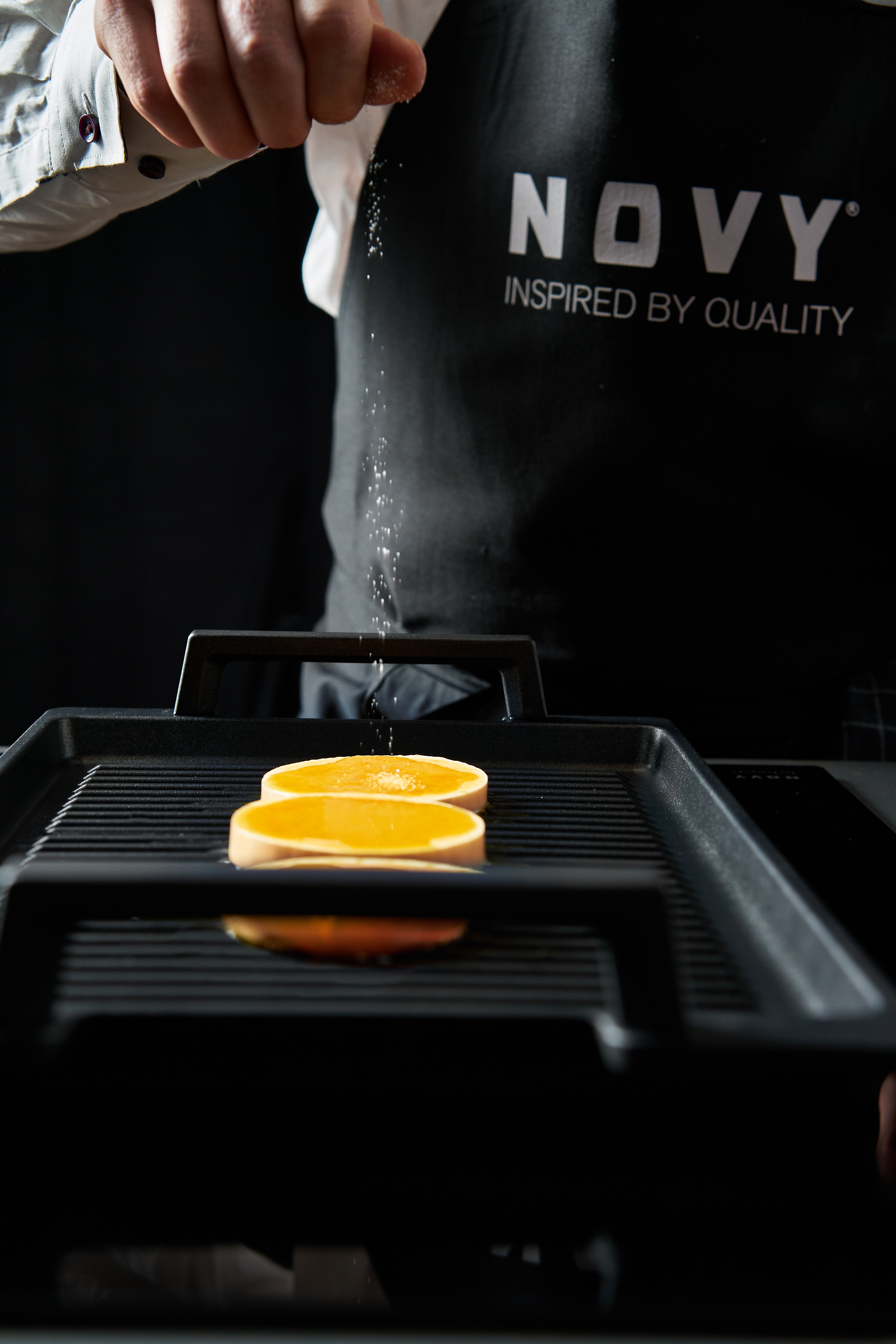 Ingredients for 4 people:
800g pumpkin, 600g peeled and sliced, and 200g sliced
200 g spinach
40g porcini, dried and cut into pieces
150g mushrooms, cut into quarters
100g parmesan cheese, grated
8 lasagna sheets, halved
2 cloves of garlic, finely chopped
3 tbsp olive oil
1 tsp balsamic vinegar
2 tsp soy sauce
40 g butter
½ tsp nutmeg
Salt and pepper
Preparation:
Soak the dried porcini in cold water for 20 minutes. Drain briefly.
Mix 2 tablespoons of olive oil with the balsamic vinegar and soy sauce. Stir this into the porcini. Set the dressing aside.
Heat the butter in a pot. Add the pumpkin cubes and a little water, and allow to cook covered for 25 minutes. Purée the pumpkin with 50 g of parmesan, nutmeg, pepper and salt. Set aside and keep warm.
Grill some extra pumpkin separately.
Cook the mushrooms in a tablespoon of olive oil until tender. Add the garlic and fry for a while. Scoop the mushroom mixture from the pan and then allow the spinach to shrink.
Cook the lasagna sheets according to the instructions on the package. Drain briefly.
Divide a fourth of the spinach over 4 plates. Place a lasagna sheet on top and cover with a layer of pumpkin purée. Place a thin layer of spinach and a second lasagna sheet on top. Repeat this step 2 more times and finish with the pumpkin purée.
Spread the mushroom mixture over the lasagna turrets. Finish off with the porcini dressing. Sprinkle the remaining parmesan over the lasagna and serve immediately.
Enjoy!
Watch the video here:
Interested in Cloud Black? Contact us and we will help you further with customized information.