Novy Panorama
Choose for unlimited freedom with a hob with extraction
Open-plan kitchens and kitchen islands are an increasingly popular choice. Because today's kitchen is a place not just for cooking, but for living in. Integrating the extractor in the worktop gives you unlimited freedom in the design of your dream kitchen. 
With Panorama, Novy proves that a hob with extraction can be stylish and discreet, without any compromise on functionality. The sleek black designer extraction tower in semi-transparent glass is height-adjustable, so it removes fumes at source. But it's also discreetly integrated into the hob and only visible when you're cooking, eliminating visual clutter.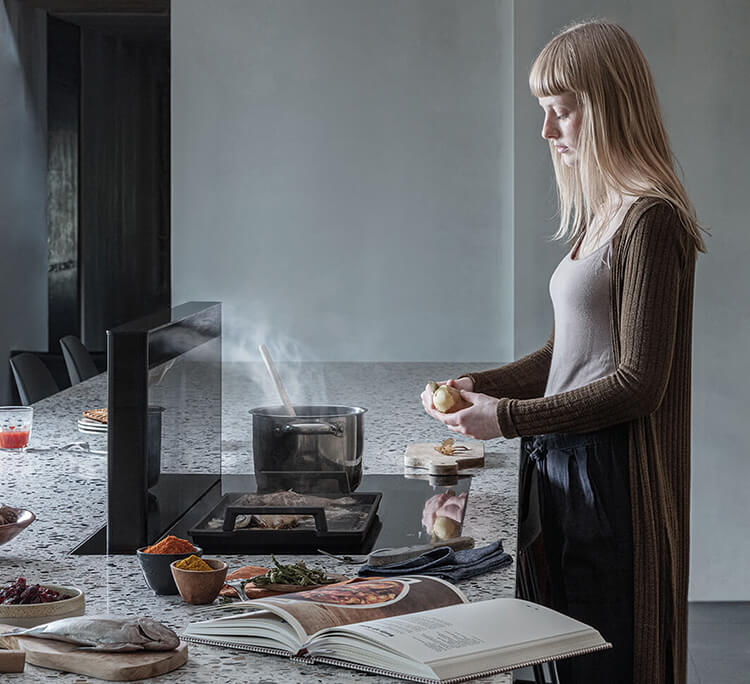 Why Novy Panorama?
Worktop extraction: why choose Novy Panorama?
Unlimited freedom
Combining your hob and extractor means you don't have to take ceilings or walls into account in the design of your kitchen. The different extraction tower height settings – 10cm, 20cm and 30cm – ensure efficient fume removal from both low and tall pans. 
Quiet as a whisper
Novy extractors are renowned for their silent  efficiency – they're designed to be quieter than your cooking. The Panorama ventilation tower is particularly noiseless thanks to its built-in silencer and acoustic optimisation. 
Pure and timeless design
The sleek black extraction tower, made of slightly see-through, semi-transparent glass, is discreetly integrated and only visible during cooking. The clean design extends to the induction hob with its minimalist serigraphy that lights up when in use. 
Strength in flexibility
The built-in extraction tower is height-adjustable, so it removes the fumes directly at source. The different cooking zones of the panoramic hob can be connected to form an extra large cooking zone, for example for grilling. 
Smart technology
Hob and extractor are directly connected to each other and are easy to operate with intuitive touch control. Thanks to optional recirculation technology, odours are processed indoors by a carbon filter with a unique coating in a plinth. 
Easy to look after
Like the induction hob, the ventilation tower is easy to clean with a little water and detergent. The tower's glass surface also has an oil- and water-repellent coating. The grease filters and collection trays are dishwasher safe. 
Novy Panorama:
unified extractor and hob
The Panorama range combines Novy's years of extractor expertise with the latest induction technologies. With its extractor discreetly integrated in the worktop and its thorough attention to design, the Novy Panorama is strikingly inconspicuous. 
The extraction tower is located at the back of the panoramic induction hob for freedom of movement during cooking. 
The cooking zones (you can choose between three or four) are next to each other so that it's easy to reach all your pots and pans. Using the bridge function you can simply connect zones together. 
The induction hob with its numerous useful features, such as the keep-warm function, boil-over protection and automatic pan detection, guarantees unparalleled cooking pleasure. 
Very little storage space is lost in the base unit, so you can include drawers with a depth of 40cm. 
Novy Panorama is available in five models, depending on the number of cooking zones and extra features of the induction hob. 
You can opt for extraction to the outside or recirculation, meaning that the air is purified by a carbon filter with a unique coating in the plinth. 

Why Novy?
Novy, inspired by quality
At Novy we firmly believe that cooking should be a pleasure. And that requires efficient fume extraction. A durable and quiet motor, unique extraction technology, a designer finish in high-end materials and extremely efficient odour removal: there are plenty of reasons to opt for a Novy extractor. Panorama combines the convenience of an induction hob with our expertise in worktop-integrated extraction. Worktop extraction in style, for optimal ease of use and endless cooking pleasure. 
At Novy, we have been committed to innovation, superior quality and consistent craftsmanship since 1965. That's why we give a 5-year warranty on the entire Panorama range. 
Discover the Panorama range

Looking for a different solution for your situation?
Maybe Panorama is not the solution you're looking for, but you definitely want a hob with extraction?