Chocolate Mousse: Quick, easy and dairy free!
The best fluffy vegan chocolate mousse you ever tried...


Chickpeas and chocolate – not really an evident combination at first sight , but still. We won't be using the chickpeas, but the fluid they're kept in, because it is the ultimate vegan replacement for egg white in this chocolate mousse. Not convinced? Try it out!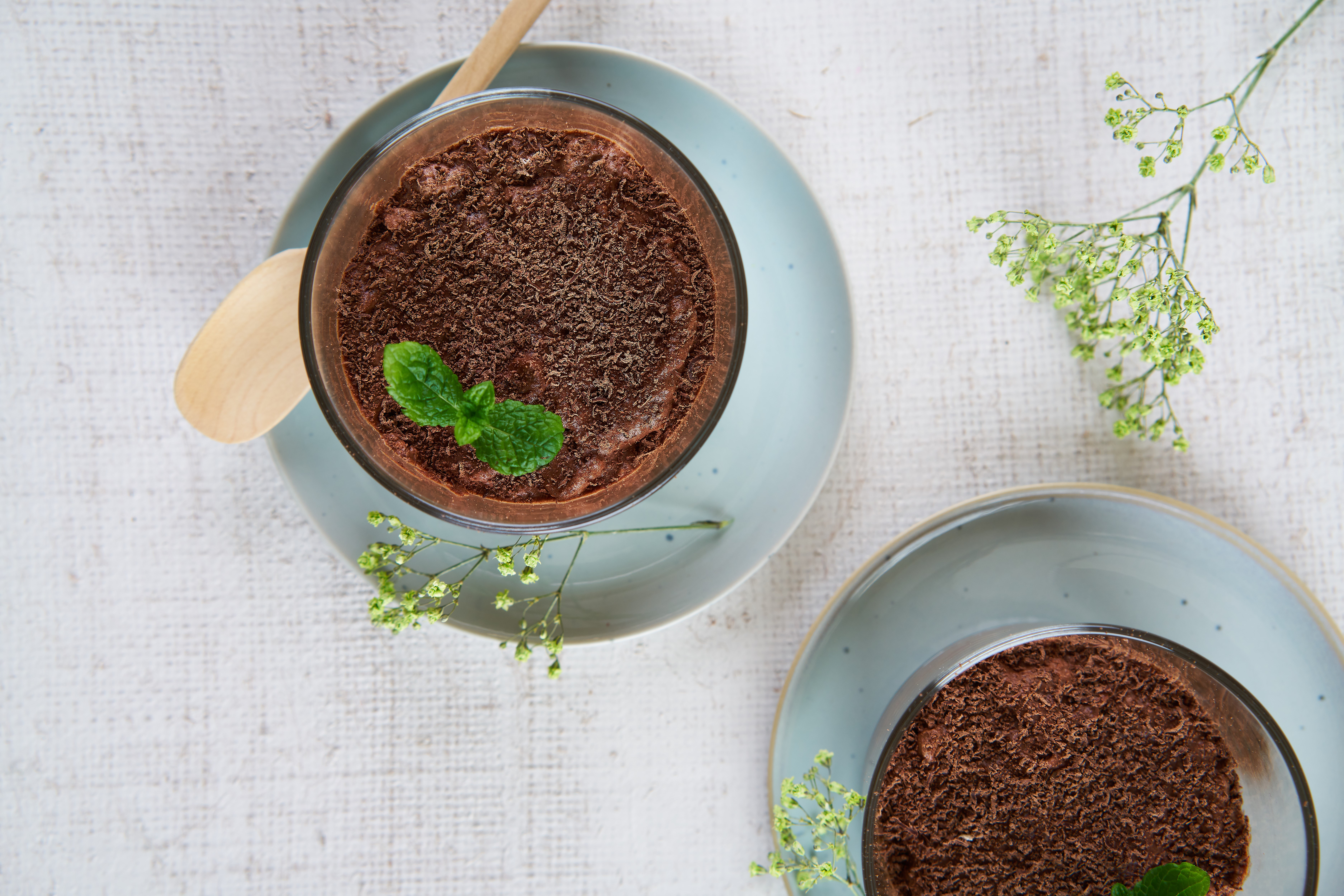 Good to know:
The liquid chickpeas are kept in is called aquafaba. In 2015, an American software engineer looking for vegan egg alternatives discovered this use: you can whip it just like egg white.
Try it yourself?
This is what you need (for 8 small portions)
200 g dark chocolate (70%)
300 ml aquafaba (contents of about two 400 g cans of chickpeas)
4 teaspoons of lemon juice
8 tablespoons of sugar
How to
Break the chocolate into small pieces and melt it au bain-marie*. Let it cool down to room temperature.
Whip the aquafaba and the lemon juice with a blender until it forms soft peaks. Gradually add the sugar and keep whipping until you have a smooth whole.
Carefully fold in the whipped aquafaba with the melted chocolate in a few stages.  
Tip: Don't stir for too long to avoid losing the air from the mixture .
Spoon into serving cups, cover and refrigerate for at least one hour (preferably a night).
The finishing touch
Top with a sprinkle of chocolate, some fleur de sel, whipped coconut cream, raspberries, chopped nuts, a peppermint leaf …
*Melting chocolate is usually done 'au bain-marie', but on the induction hob with its integrated worktop cooker hood Novy Panorama Pro that is no longer necessary: it allows you to set every cooking zone at three fixed temperatures (42°, 70° and 94° C). 42° C is the 'keep warm' temperature for sauces etc., but it also happens to be the right temperature to melt chocolate in a regular pan.