Froni is the proud owner of the first Novy Phantom
When Froni went to the Novy showroom with her kitchen designer, she was immediately won over by the photos of the Novy Phantom. Yes, that's right, the photos, because this eye-catching island extractor was not even in production at the time. Froni is now one of the very first people to cook with a Phantom Frame. We visited her warm kitchen with a rustic touch!


We started with a round of quickfire questions!


Colourful or plain?
Plain
Contemporary or classic?
A nice mixture of the two.
Open-plan or closed kitchen?
Open-plan, but it should be slightly tucked away around a corner. I want to maintain eye-contact with my guests when they're at the table, but I also think it's important that the kitchen retains some privacy.
Does your house have a kitchen princess or a kitchen prince?
Definitely a kitchen princess! My husband is hopeless in the kitchen😊.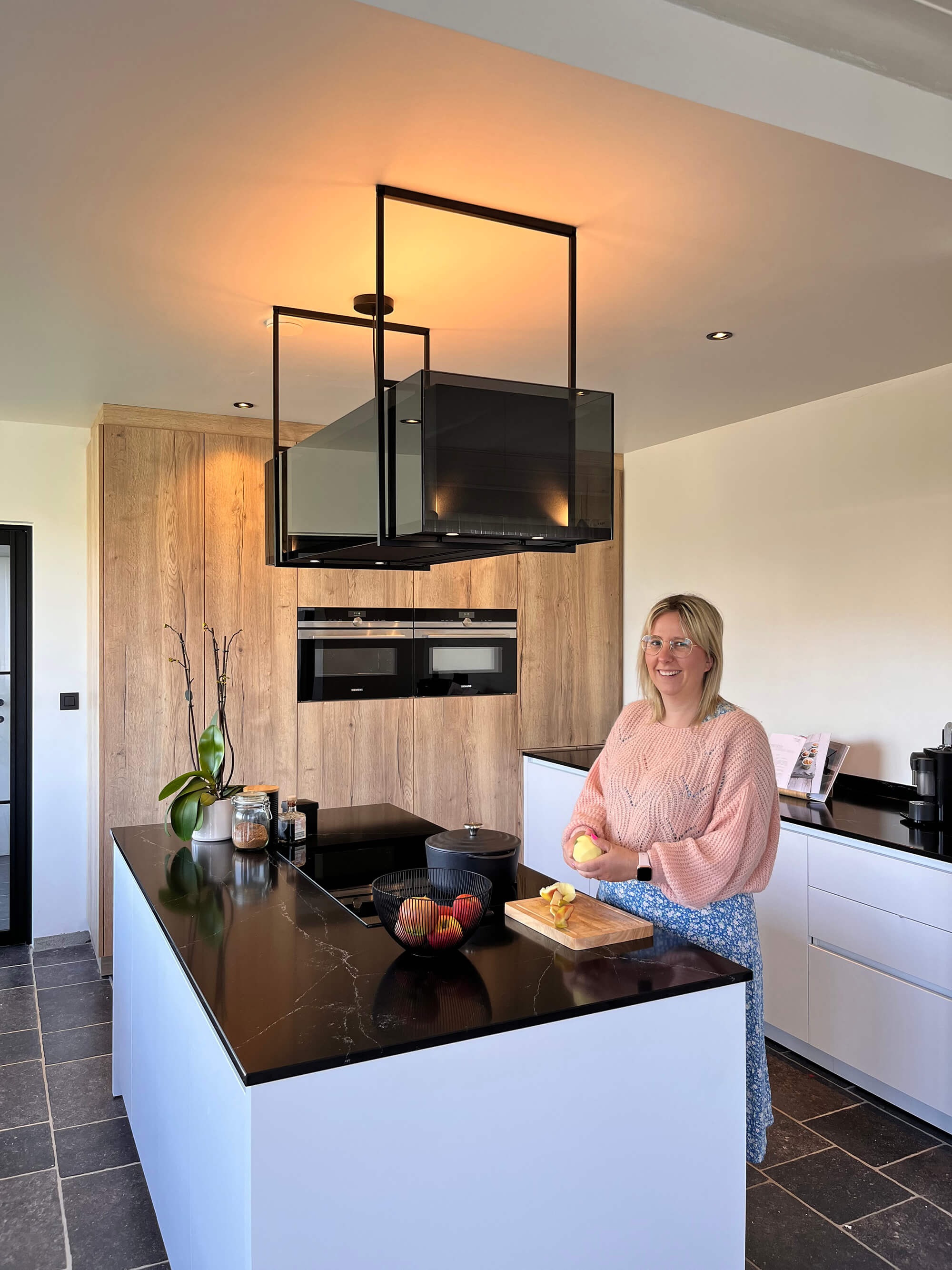 What does your dream kitchen look like?
I love the country look. The rustic materials and warm domesticity of these kitchens are amazing!
We are now here in your dream kitchen. How did that come about?
Like many people, I looked at Pinterest for inspiration. I wanted a chimney as an eye-catching element, but changed my mind when the plans had been drawn out. It made our kitchen feel too small. However, we purposely chose the materials so as to create a cosy atmosphere. The cupboard wall is made from rustic wood and the robust tiles give a very warm appearance.
Of course, there's also the Phantom Frame!
I visited the showroom with my kitchen designer. I first noticed the Panorama, but the observant representative quickly realised that I was actually dreaming of something more eye-catching. This is how the Phantom Frame came into the picture. I was won over as soon as I saw the photos! The glass and steel design perfectly match our wooden cupboard wall and our steel doors. It's almost as if this island extractor was made for our kitchen. I'm extremely satisfied with my eye-catching extractor and everyone that sees it is impressed by the design!


Apart from being stylish, does the kitchen also need to be child-proof?
Definitely! The door knobs and handles in our old kitchen were constantly grubby because the children like to touch everything. This time, we purposely chose a concealed handle above the drawers. There are also deep drawers in the cupboard wall that you can pull out fully. It means the kids can easily get to the cookies without making a total mess of the cupboards.
On the subject of food...what's your signature dish?
It's got to be pork cheeks and chips. This is my absolute favourite dish and I make it with lots of love!
To round off, what is the secret ingredient in your kitchen?
Aside from the Novy Phantom, it's got to be the huge amount of different herbs. I always make up my recipes as I go along. I'll use a certain herb one day, and then use something completely different the next. Sometimes it doesn't go well, but I usually end up with a fantastic new recipe!
Are you curious about the capabilities of the Novy Phantom? Discover our unique extractor hood and you will be surprised by its versatile functions and design!
Ontdek onze Novy producten
Vind een verkooppunt in de buurt