Novy acquires Dutch designer lighting manufacturer, Jansen & De Bont
Novy, part of the Middleby Group, has acquired Jansen & de Bont, a Netherlands-based designer lighting manufacturer. Established in 2014, the company was set up by industrial designers, Matthis Jansen and Jorg de Bont. They translated their passion for lighting techology into innovative solutions for the home by the introduction of energy efficient and intuitive touch-free gesture controlled LED lighting, which is ideal for use in the kitchen in a post-pandemic world. From June 2022, Jansen & de Bont's portfolio of patented lighting products will be sold under the Novy brand name as Novy Lighting PRO and production will be transitioned to the Novy headquarters in Kuurne, Belgium this Autumn.
Just by using swiping gestures within 10cm of the integrated smart sensor in each standard model, lighting can be activated, while luminosity can be adjusted. The colour of the light can also be changed using a special mood mode. The beam can also be dragged left and right and also minimised to focus on a specific position beneath it, ideal for reading recipes. There are three touch-free lighting models that all feature a contemporary minimalist aesthetic: WALL: a wall-mounted version, SHELF: an integrated lighting solution and PENDANT: designed to sit above a kitchen island, peninsula or dining table. Lightweight and recyclable, each comes in a range of sizes from 90cm to 180cm versions.
Lighting is integral to the design of all Novy cooker hoods. The company has always manufactured all of its own lighting components, focusing on adjustable mood settings with task or ambient options that can be controled in a number of ways. Jansen & de Bont's patented lighting innovations are highly complementary to Novy's current product offer and this acquisition brings opportunities for further product development in the future.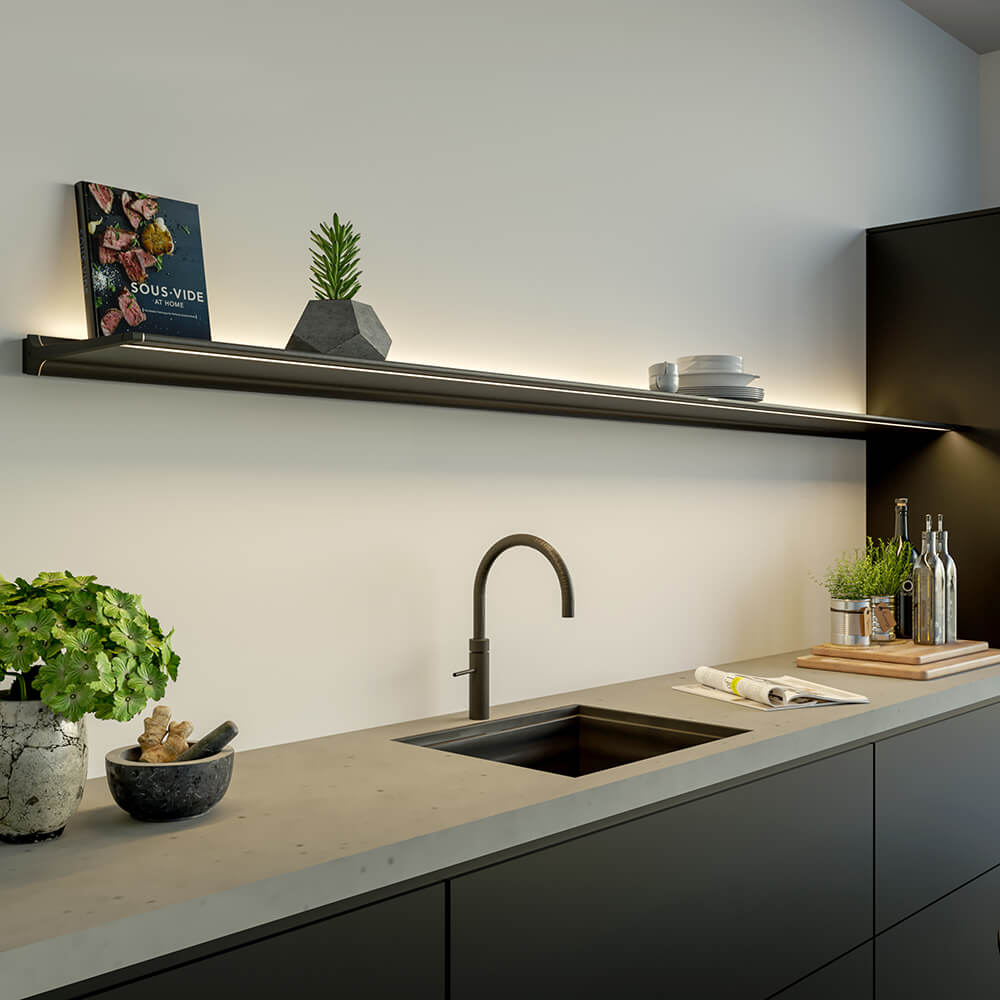 "We are very pleased to include the beautiful products of Jansen & De Bont in the Novy range. It is a nice addition to our existing range and the perfect lighting solution for, among others, the Novy worktop extraction products, where light is difficult to integrate," says Francis Gistelinck, CEO of Novy with satisfaction.
Matthijs Jansen adds: "Thanks to Novy's strong international distributor network, our products now reach a much larger market. It is a nice recognition for the work we have done and allows us to further expand the quality of our range thanks to Novy's R&D and market knowledge."
Francis Gistelinck also sees benefits for the end consumer and kitchen distributors. "The customer gets a kitchen in which the lighting is perfectly matched to each other and to the cooktop and extractor hood, and the kitchen distributor can create a beautifully integrated design. A win-win for everyone."


Made in Belgium
The products will be marketed in the near future under the Novy brand name. The entire production of the lighting products will move to Novy's headquarters in Kuurne, West Flanders, in the autumn, where the development and manufacture of the cooker hoods and hobs is also located. For this, the production is extended with a new assembly line and investments are made in specialised material such as a CNC saw machine and a laser marking machine.