Which appliances go best with a kitchen island?
A kitchen island is ideal if you like to spend a lot of time in the kitchen. It provides more cooking space and creates a convenient cooking setup. This is because you have the most important elements in the kitchen, such as the tap, hob and worktop, within easy reach. But even when you are not cooking, a kitchen island is a real asset to the kitchen. Together with friends or family, you enjoy a drink or a snack around the island. This makes the kitchen the heart of the house. Consequently, the kitchen island is included in the dining or living room. But which components are best for a kitchen island? And what dimensions should you take into account? To help you with these choices, in this article we tell you what you need to consider.
A kitchen island with hob
A kitchen island with hob is a great option because you cook facing the dining or living room. Great if, for example, you want to entertain your guests or keep an eye on your children while cooking. Would you like to have your hob built in? Then keep in mind that the space around the hob is sufficient to catch the grease spatters. After all, there is no splash wall. You also need to think about the positioning of your cooker hood. You can have it installed above the hob, but it can also be useful to choose a hob with a built-in extraction system. With a kitchen island, installing an exhaust duct for the cooker hood can sometimes be a challenge. An alternative is to opt for recirculation. An additional advantage of recirculation is that the warm air is not blown outside.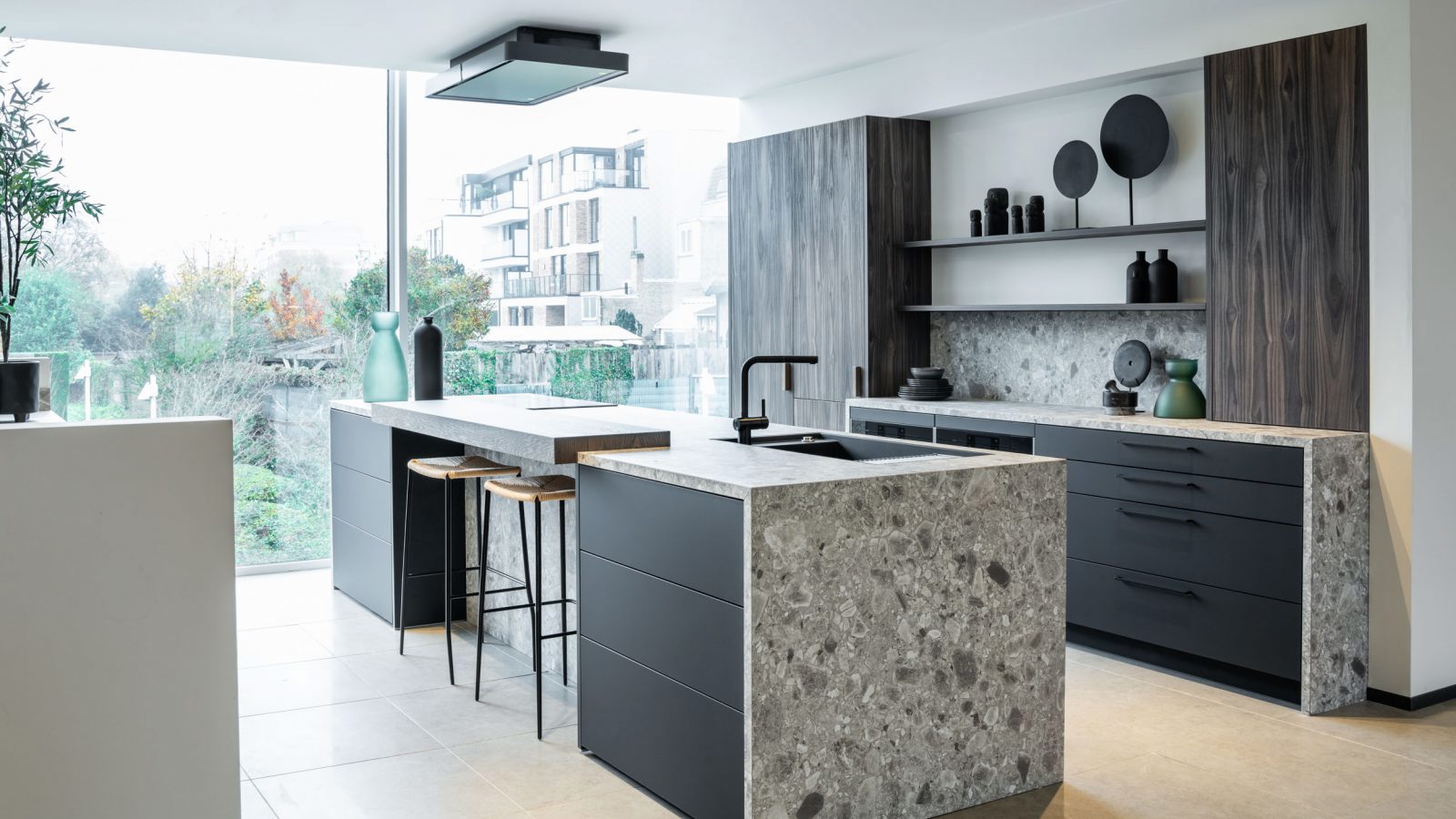 A kitchen island with sink
A sink is also a good option for a kitchen island. Do keep in mind the size of a sink and the outlet space it needs. So make sure you take measurements beforehand. You also need to provide the kitchen island with hot and cold water supply. It is convenient to place the dishwasher in the kitchen island if the sink is also placed here. The advantage of this is that dirty dishes do not remain in the sink and the water supply and drainage are together.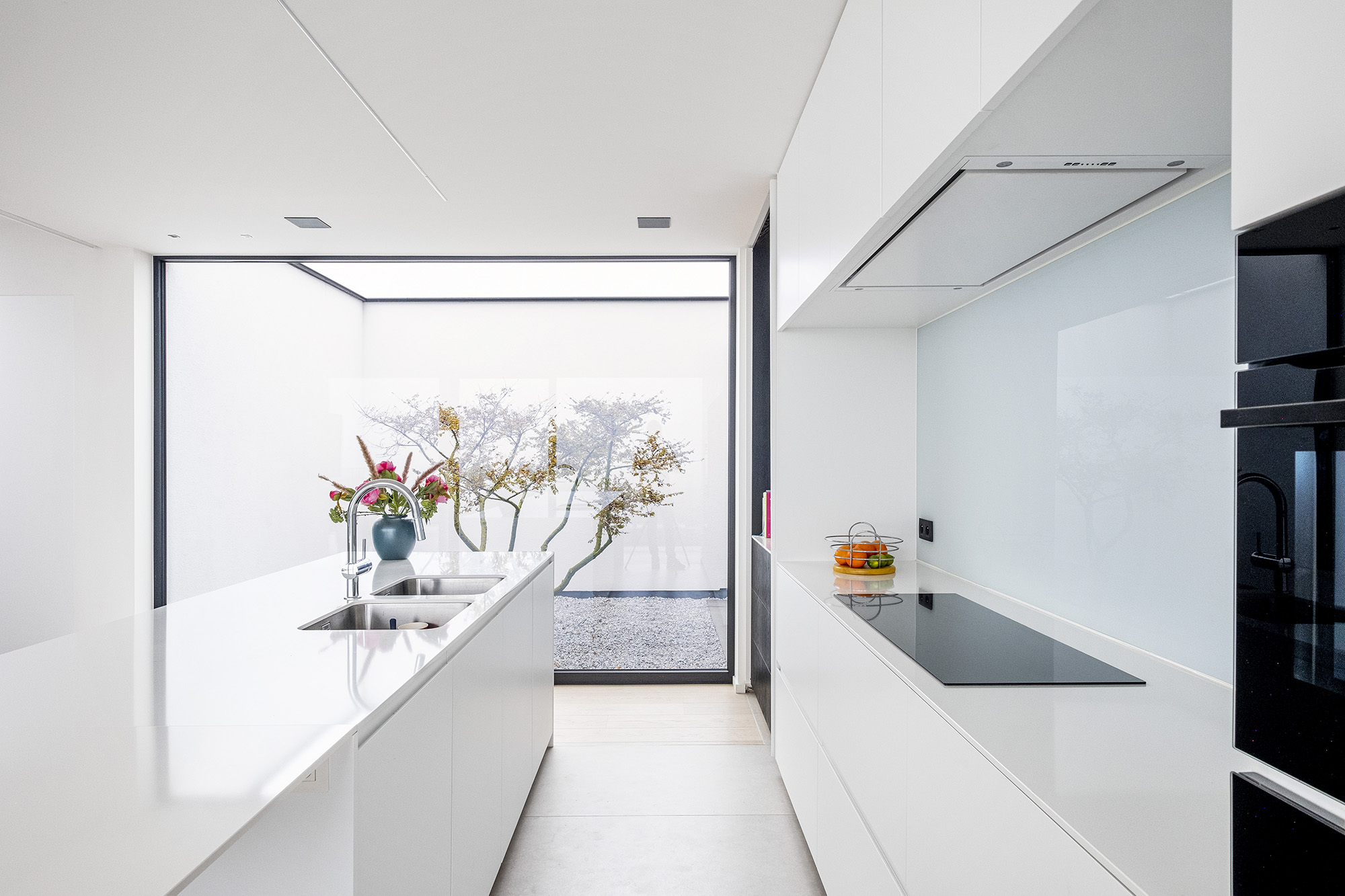 Dimensions to consider with a kitchen island
The height of a kitchen island depends on its different functions: for example, if you want to use the island to sit at as well, it should be higher than normal. The height of the kitchen island is also important when integrating a hob.
When using bar chairs and a hob: 95 cm high.
When using a kitchen island for low chairs: 70 cm high.
Apart from this, the distance between the kitchen island and the rest of the kitchen is also important. You want enough space to move around and to be able to open cupboard doors. The distance is bigger if you also sit around the cooking island:
For a kitchen island that doesn't have seats: between 90 and 130 cm.
For a kitchen island with seats: at least 140 cm.
Are you going for a kitchen island with a hob? Then you also need to think about the distance between the hob and the cooker hood. Of course, you can choose a vented hob. However, if you prefer a cooker hood above the hob, consider a minimum distance of 65 cm.

As you have read, a kitchen island comes with many advantages: more work space and extra atmosphere and cosiness in the kitchen. Whether you go for a kitchen island with sink or hob, by reading this article you will know exactly what to consider.