Very trendy: poké bowl with tuna, red cabbage and mango
Conjure up a bit of Hawaii onto your table.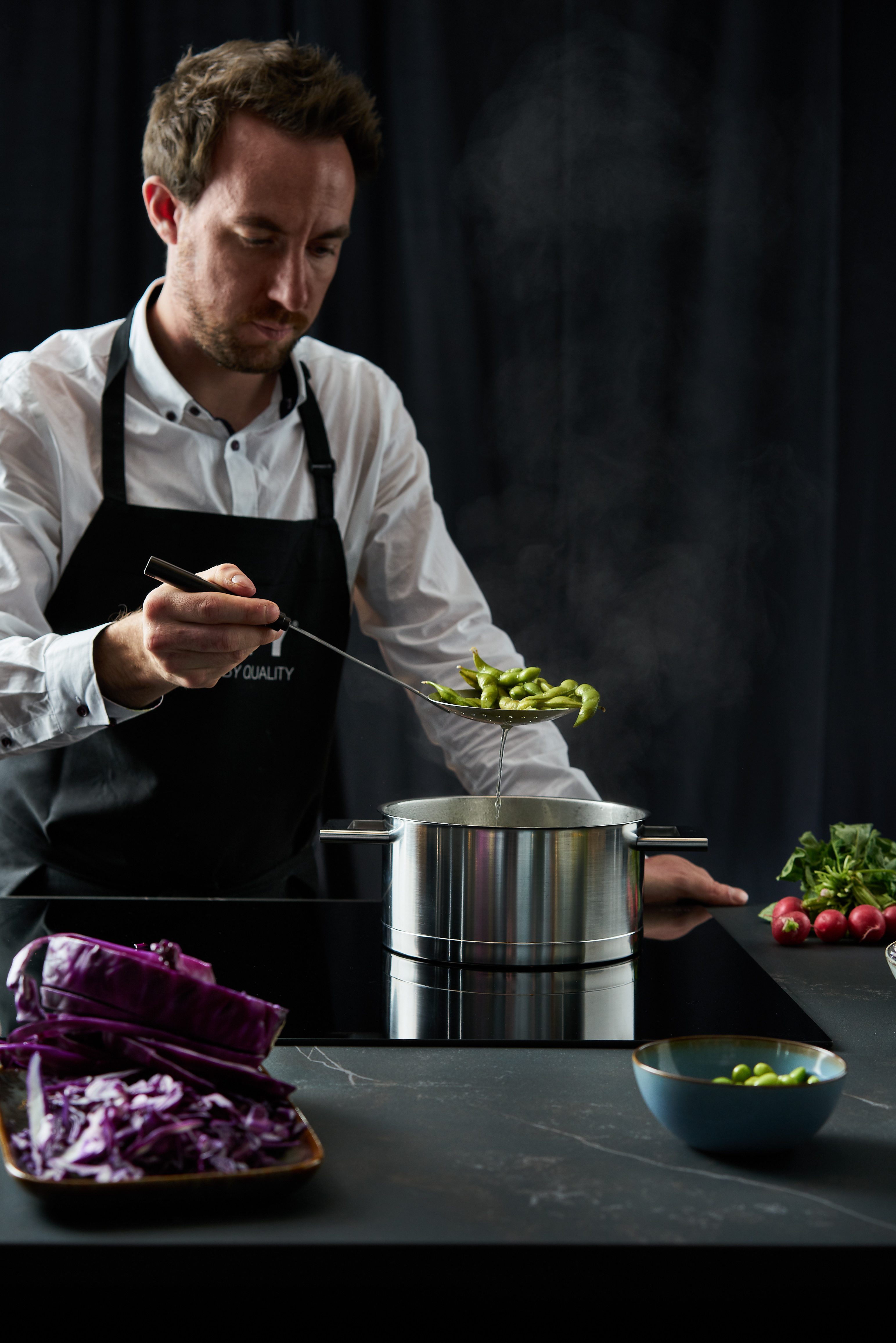 The trendy poké bowl - originally a Hawaiian recipe - is an extended version of sushi, in which a bowl of rice is enriched with raw fish and tasty vegetables. A bowl full of texture and umami.
This recipe was developed in the Novy kitchen, where Cloud Black plays the leading role. Do you prefer to avoid raw fish? You can grill your fish in no time at all with the Novy grill plate. And you won't have to worry about the fish smell. Thanks to the naturally coated monoblock filter, unpleasant odours disappear immediately.

Ingredients for 4 people:
● 300 g rice
● 100 g sustainable fresh tuna, diced
● 80 g edamame beans
● Three tablespoons of mango, diced
● 1 mini cucumber
● 1/2 avocado, sliced
● 1 spring onion stem, sliced
● A few slices of 'Blue Skin Radish'
● A handful of finely chopped red cabbage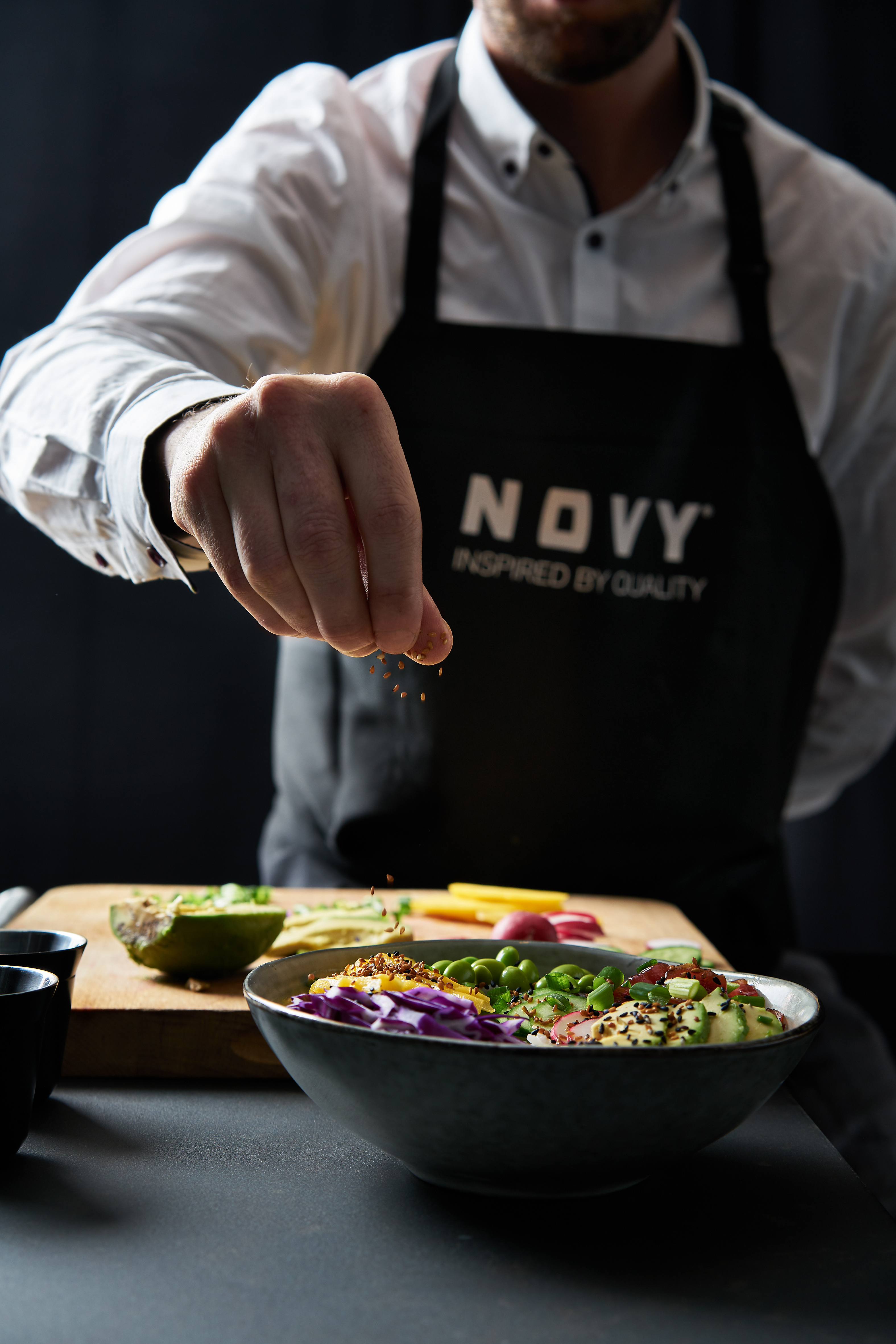 ● 1 tbsp sesame seeds
● A couple of edible flowers (optional)
For the marinade:
● 1 tbsp soya sauce
● 1 tbsp sesame oil
● 1 tsp roasted sesame seeds
● 1 teaspoon ketjap manis
● 1/2 tsp maple syrup
● 1 small block of grated ginger
Preparation:
Cook the rice as indicated on the package. Once the rice is ready, set aside to cool to room temperature.
For the marinade – in which you marinate the tuna - mix together the soy sauce, sesame oil, roasted sesame seeds, ketjap manis, maple syrup and ginger in a small bowl.
Cut the tuna into cubes and pour the marinade over the tuna. The tuna can marinate while you prepare the rest of the salad.
Rinse the edamame beans under cold water and drain.
Take a small bowl and start with a layer of rice. The rice does not have to be warm.
Spread the edamame beans, mango, cucumber and avocado over the rice. Finish off with the Blue Skin Radish and finely chopped red cabbage, coriander, spring onion and sesame seeds.
If you have edible flowers at home, you can use them to brighten up the poké bowl.
Finally spread the marinated tuna over the poké bowl. Some marinade left? Use it as a sauce.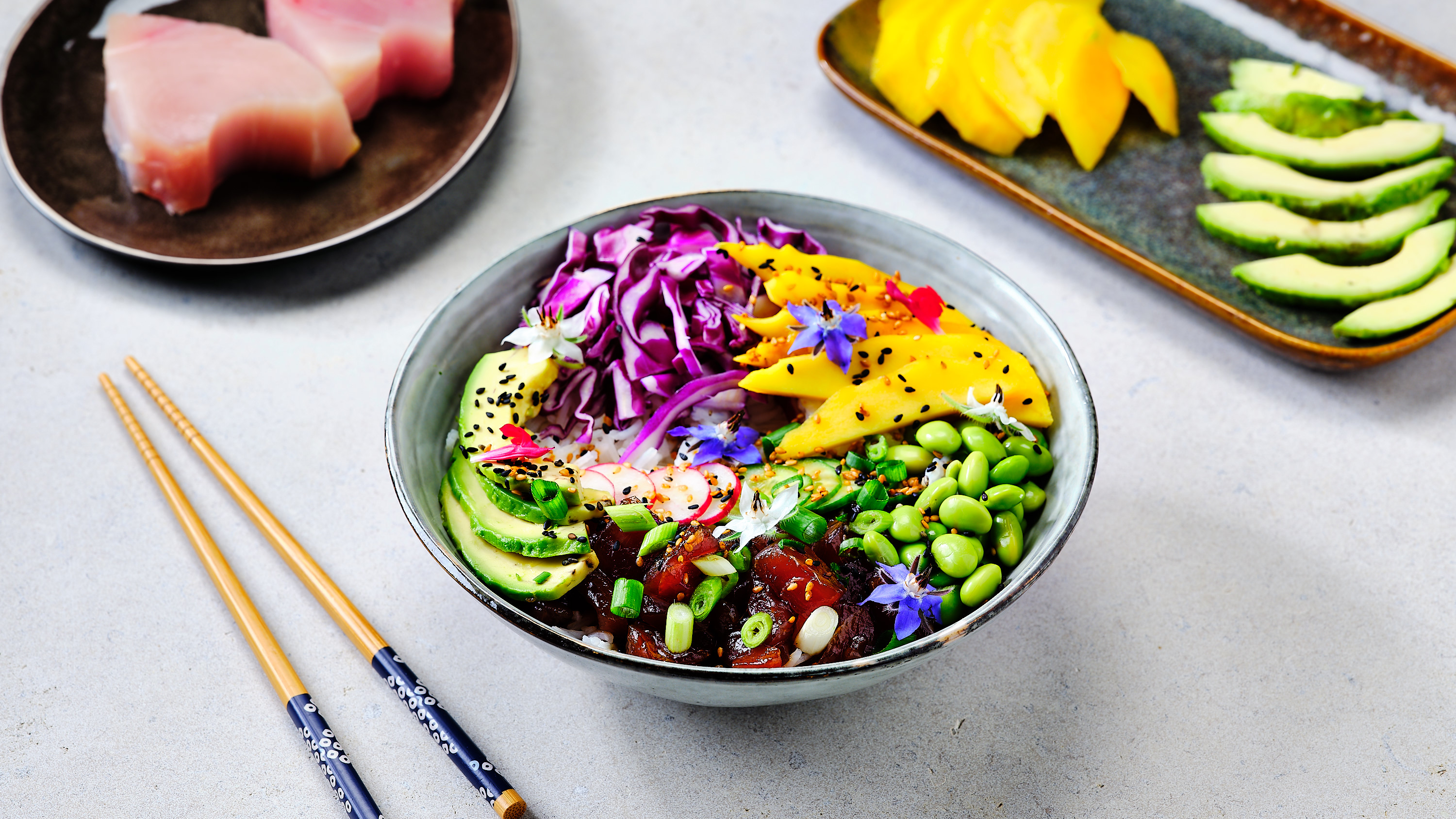 Watch the video here:
Interested in Cloud Black? The Novy dealer in your area will help you further with customised information.