An aperitif snack to win anyone over: carrot spring rolls with a yoghurt dip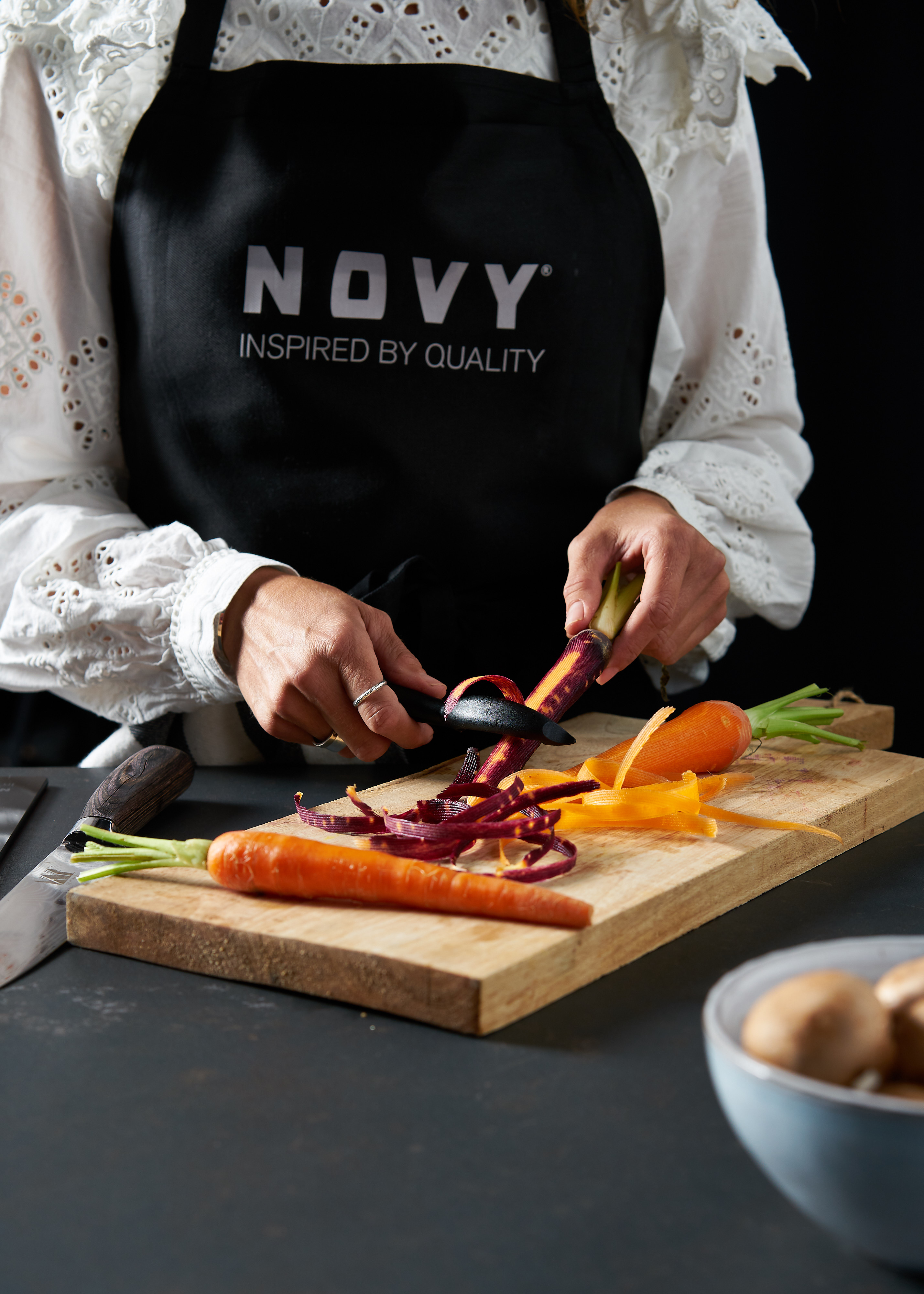 And you win twice with these carrot spring rolls: once with the taste and once with the vitamins. You can easily make and freeze this snack in advance. So that you always have a taste bomb ready for an unexpected visit.
Deep-frying in an open kitchen when there are guests around? You can opt for an effective solution thanks to the recirculation cooker hood from Novy. Unpleasant odours disappear immediately thanks to the naturally coated monoblock filter.
Ingredients for 4 people:
3 large carrots
A handful of mushrooms
A handful of spring onions
Fresh tarragon
A 1cm piece of ginger, grated
1 clove of garlic, crushed
1 tbsp olive oil
1 tbsp soy sauce
A dash of lime juice
Salt and pepper
Peanut oil
15 - 20 sheets of frozen spring roll dough
For the sauce:
150g unsweetened soy yoghurt
A handful of parsley
A few leaves of fresh tarragon
Salt and pepper
A dash of lemon juice
You can also serve the spring rolls with soy sauce.
Preparation:
Peel the carrots and cut them into fine strings with a spiral cutter.
Cut the mushrooms and the spring onion into small cubes.
Shred the fresh tarragon.
Grate the ginger and press the garlic.
Briefly stir-fry the vegetables in a little olive oil with the garlic, tarragon and ginger. Season with a spoon of soy sauce and a dash of lime.
Allow the spring roll sheets to thaw and drape them in the shape of a diamond. The accompanying video shows you how. Fill them with a spoonful of stir-fried vegetables and roll them up. Put some water on the edges to seal them.
Keep the spring rolls in the freezer or fry them immediately. Fill a wok pan to a third with peanut oil or heat a deep fryer to 180 °C. Is the oil hot enough? Put the spring rolls in and turn them over with a skimmer/slotted spoon. Remove the spring rolls when they turn brown, and place them on kitchen paper to drain.
Tip:
There is an easy way to test whether the oil is hot enough to fry. Put the oil on the stove and let it preheat. Take a piece of bread and carefully put it in the oil. If the bread colours immediately, the oil is ready for frying.
Preparing the sauce:
Mix 150 g unsweetened soy yoghurt with a dash of lemon juice and season with salt and pepper. Finish off with fresh, finely chopped parsley and tarragon.
Enjoy!
Watch the video here:
In this video, you see Ellen Charlotte Marie at work, a Belgian hobby chef who works with pure, plant-based products. You will find even more delicious recipes on her Instagram page. For this dish, Ellen was inspired by the Novy Pure'line, a cooker hood mounted in the ceiling. The elegant lines and the discreet design fit in perfectly with the current 'better with less' trend.