Expand your horizon with these vegetables in sweet and sour sauce with feto cubes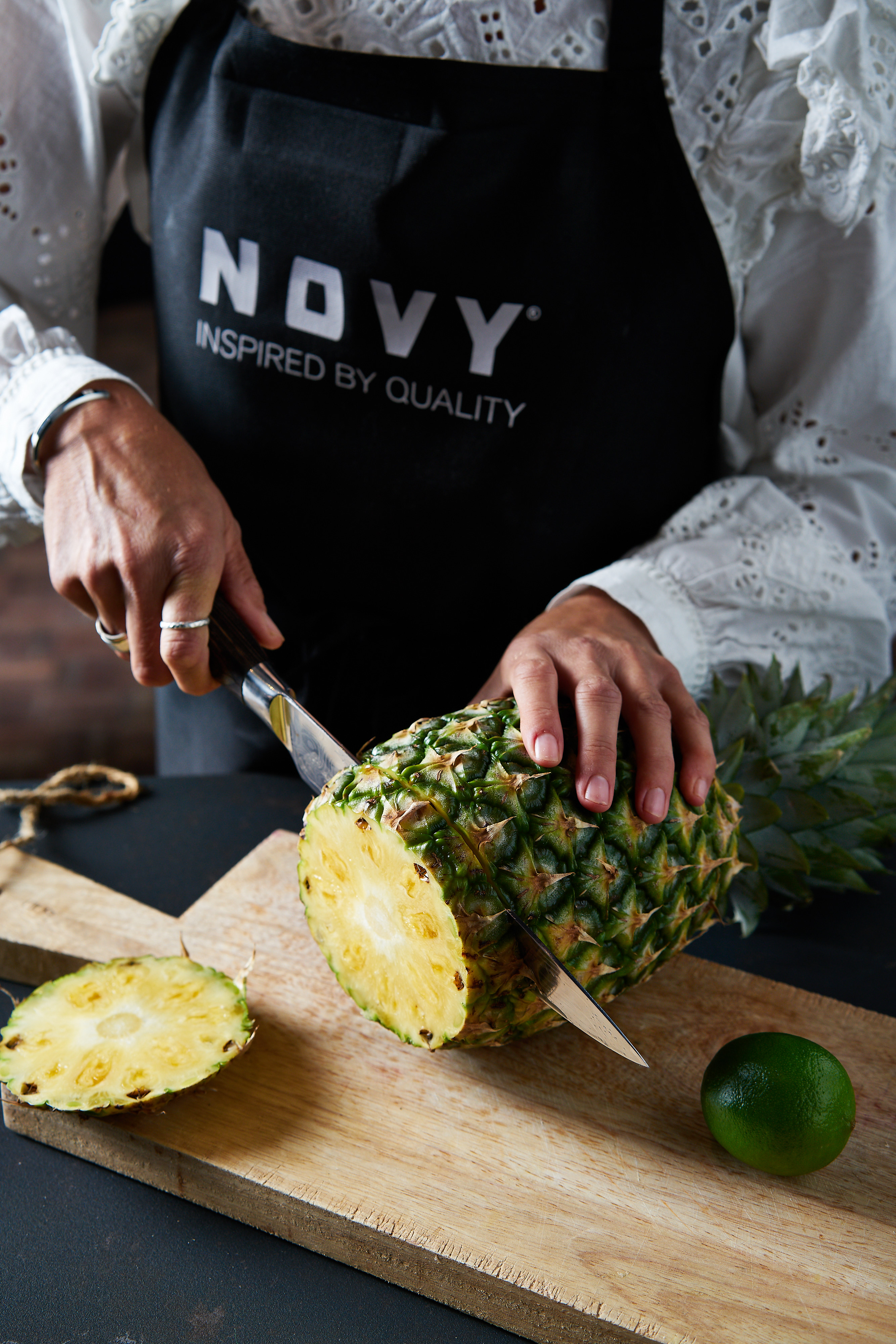 Are you a real foodie who likes a challenge? Then this recipe with  vegetables and feto cubes is really something for you.
Ellen Charlotte Marie, a Belgian hobby chef who has a big fan base on Instagram, was inspired by the Novy Pure'line cooker hood for the ceiling, and has created a menu in which this vegan dish plays the leading role. The stylish and discreet design of the Novy Pure'line is reflected in the pleasant linear pattern and the attention to detail.
 Ingredients for 4 people:
400g basmati rice
1 packet of feto (fermented cubes of tofu), diced*
A pinch of turmeric
2 large carrots, cut into thin slices
A handful of kale, finely chopped
1 red onion, cut into fine rings
3 cm fresh ginger, finely chopped
1 clove of garlic, finely chopped
1 sweet pointed bell pepper (paprika), finely chopped
Olive oil
Salt and pepper
A lime, cut into wedges
A handful of fresh coriander
For the sauce:
150g pineapple (can also be canned, preferably without added sugar)
2 tbsp tamarind
The juice of ½ a lime
2 tbsp maple syrup
250 ml coconut milk
1 tbsp arrowroot*
*Both feto and arrowroot are ingredients that you can find at the organic store or in the organic departments of large supermarkets.
Preparation:
To make the sauce, mix together the pineapple, tamarind, lime juice and maple syrup, and mix in a food processor.
Dissolve the arrowroot in the cold coconut milk in a small bowl and set aside.
Cook the rice according to the instructions on the package.
Fry the feto cubes in olive oil and season with pepper, salt and a pinch of turmeric.

After a few minutes, add the carrots, onion, kale, ginger, garlic and sweet pepper. Stir-fry briefly on a lower heat.
Then add the sauce. Continue cooking and add the milk. Keep stirring until the sauce has thickened. Check the taste of the sauce, and season with salt and pepper if necessary.
Serve with airy basmati rice, lime wedges and fresh coriander.
Watch the video here
Discover our Novy products
Find a sales outlet near you