Novy lighting
Novy designer lighting for all types of kitchens
Looking for unique designer lighting with a touch of magic for your kitchen? Novy makes your wish come true! It's easier than ever to control your kitchen lighting thanks to our innovative gesture control technology.
To switch the light on or off, all it takes is a hand gesture. You can even control the intensity and colour of the light with a minimum of effort. With Novy, you can count on modern fittings and unique technology in stylish solutions for all types of kitchens.
Lighting tailored to your kitchen
Novy's top-quality designer kitchen lighting is available as a wall-mounted unit or as a pendant fitting. Are you looking for functional light on your worktop, a designer light above your kitchen island or an atmospheric light for cosy moments around your kitchen bar? We have lights for each of these uses!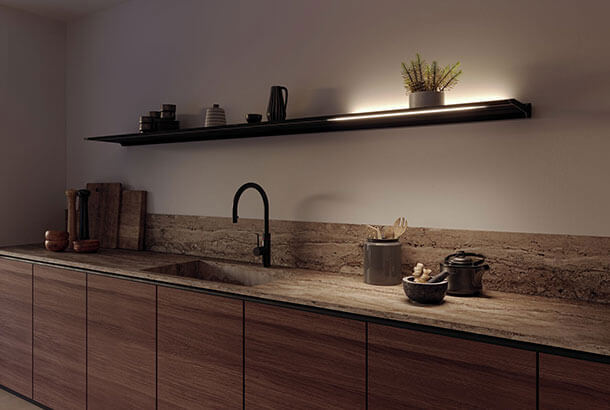 Novy Shelf (Pro)
Minimalist shelves with integrated designer lighting along the top and bottom.
Novy Shelf gives you extra space for accessories and lets you easily create the light you need on your worktop. If you'd also like to set the position and width of the light beam, the Novy Shelf Pro is perfect for you!
More about Novy Shelf (Pro)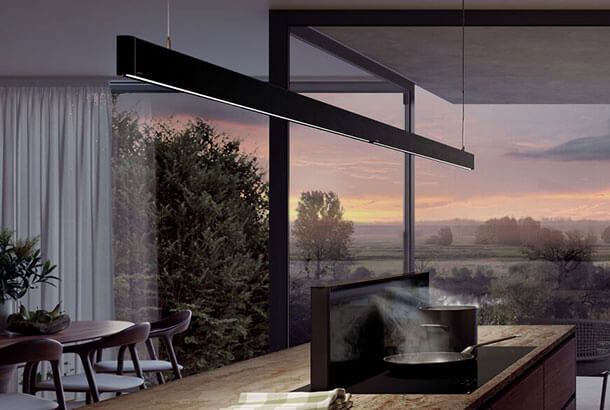 Novy Pendant
The Novy Pendant is a stylish designer pendant light and is a benefit in any kitchen. Looking for functional lighting above your kitchen island or table? How about indirect light along the top as an extra atmospheric element? The perfect experience is within easy reach.
More about Novy Pendant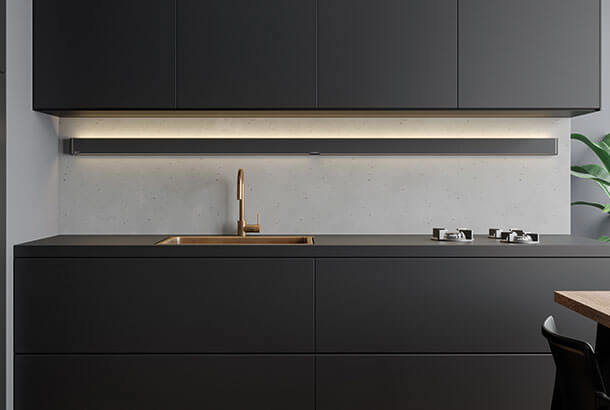 Novy Wall
This sleek wall lighting creates the perfect light setting at any time of the day. Optimal functional lighting while you cook up something special, which you can dim or even change to an atmospheric colour while you enjoy your delicious creations... With this smart lighting, all it takes is a single hand gesture.
More about Novy Wall
Gesture Control
At Novy, we strive for innovative solutions, and this is also the case for our lighting. Our gesture control adds an extra, innovative touch to your designer kitchen lighting. No need to wipe your hands anymore before you touch the light switch! All it takes is a simple swipe in the air to switch the light on or off and choose your preferred colour and intensity of light.
Our smart lighting comes in two versions: Gesture Control and Gesture Control Pro. Gesture Control (for Novy Wall, Novy Shelf and Novy Pendant) has one sensor in the middle of the fitting for controlling the light and adjusting its direction (top or bottom), intensity, atmosphere and colour. Gesture Control Pro (for Novy Shelf Pro) has sensors along the full width of the fitting. This makes it exceptionally easy to adjust the width and position of the light beam and choose whether the light shines over the full length or just focuses atmospherically on your wine glass. Cheers!
Ease of use
Do you want to know more about our innovative gesture control technology or admire the sleek lines of this system? Below you can see both types of controls in action, and you will simply be amazed.
The choice is yours
Are you ready for a healthy dose of design and smart lighting in your kitchen? Discover our range of designer lighting. Our lighting comes in various sizes, so you will always find the perfect match for your kitchen. For custom advice, you can also visit a sales outlet near you!
Find a sales outlet