Novy, brings live into the kitchen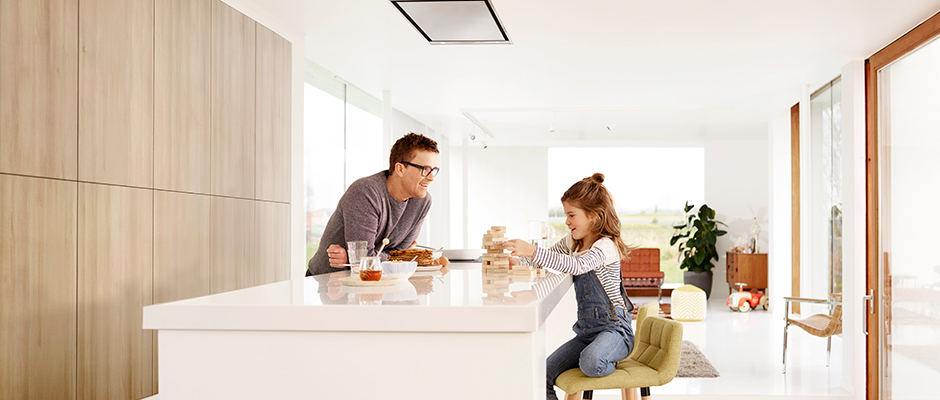 Novy brings life into the kitchen by producing silent and highly efficient cooker hoods that guarantee a pleasant time in the kitchen. We are now showcasing this message in a new campaign, in which we show moments of everyday life in a kitchen environment.
The kitchen has become a multifunctional living space and the heart of our homes. While cooking a meal, we enjoy a drink with our guests and our children play in the same space, so that they can be near us. It is also a permanent meeting place for the whole family to eat a meal and talk about the smaller and bigger things of life.
It is increasingly common to break down the walls of the kitchen to create more room in the house and better connect with those around us. And this can be achieved thanks to the Novy cooker hood.
A vibrant kitchen is the heart of the home
Although in the past years we have focused on the technical features of our cooker hoods, we notice that people's decision-making processes are based on the search for a brand that supports their lifestyle.This is true now more than ever: show me your kitchen and I will tell you who you are and what your priorities in life are. Our new advertising campaign shows life as it really is, with the kitchen bringing the family together, offering a space to spend a great evening with friends in and expressing your personality. The Novy hoods & hobs are the supporting hero's, making this all possible.

From an invisible object to an atmospheric object
From the very beginning, we have focused on technical ingenuity. Novy cooker hoods are highly efficient and silent thanks to their integrated peripheral extraction and sound damping system. This combination of efficiency and silence results in an exceptionally pleasant kitchen environment. We now offer a wide range of designs, from invisible ceiling units (Pure'line) or downdrafts (One) to atmospheric hanging models with adjustable lighting to create the desired mood. The models Mood, Cloud and Zen, for instance, are lighting fixtures, cooker hoods and atmospheric objects all rolled into one.
Trends for 2017
In 2017 we will be focusing even more on the trend of open kitchens and the demand for planning freedom. The most popular ceiling unit, the Pure'line, will soon be available with a smaller motor, under the name Pure'line Compact. This version will require a depth of merely 20 cm in your ceiling or canopy. After the success of the combined cooker hood and hob One, a new model Panorama is scheduled by the end of 2017. With this cooker hood, the ventilation tower is no longer situated between the pots and pans, but behind them, offering the largest possible cooking surface. One of its special features is the fact that the ventilation tower is adjustable in height up to 30 cm; meaning that vapours can be extracted at the source. This model offers the ultimate planning freedom, as it does not require a ceiling or canopy to be installed in.
Discover our Novy products
Find a sales outlet near you