Only 5 key ingredients for this Teriyaki Salmon
Quick, easy and delicious: ready in no time!
Surprising how easy this preparation of marinated salmon is. Try it yourself tonight!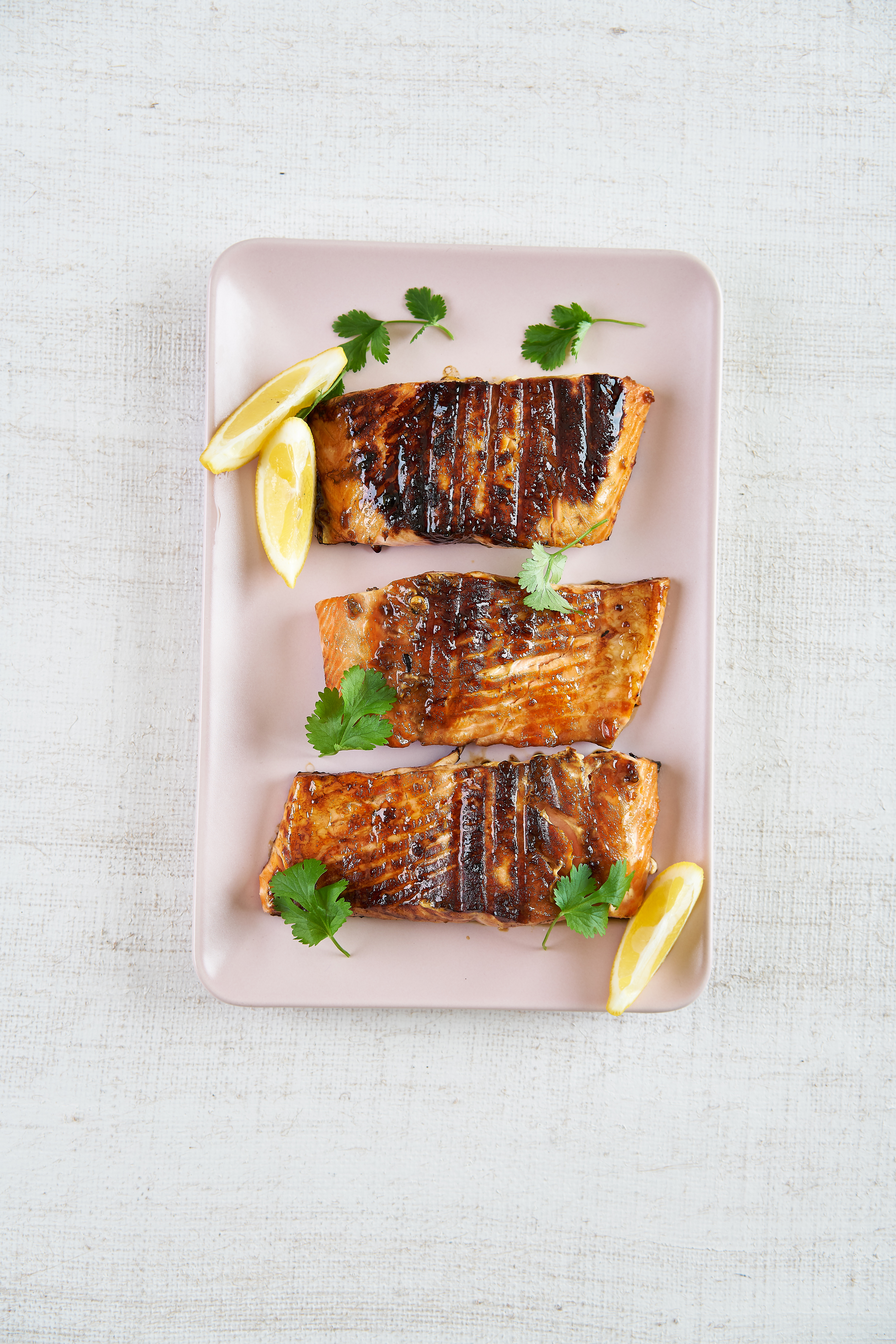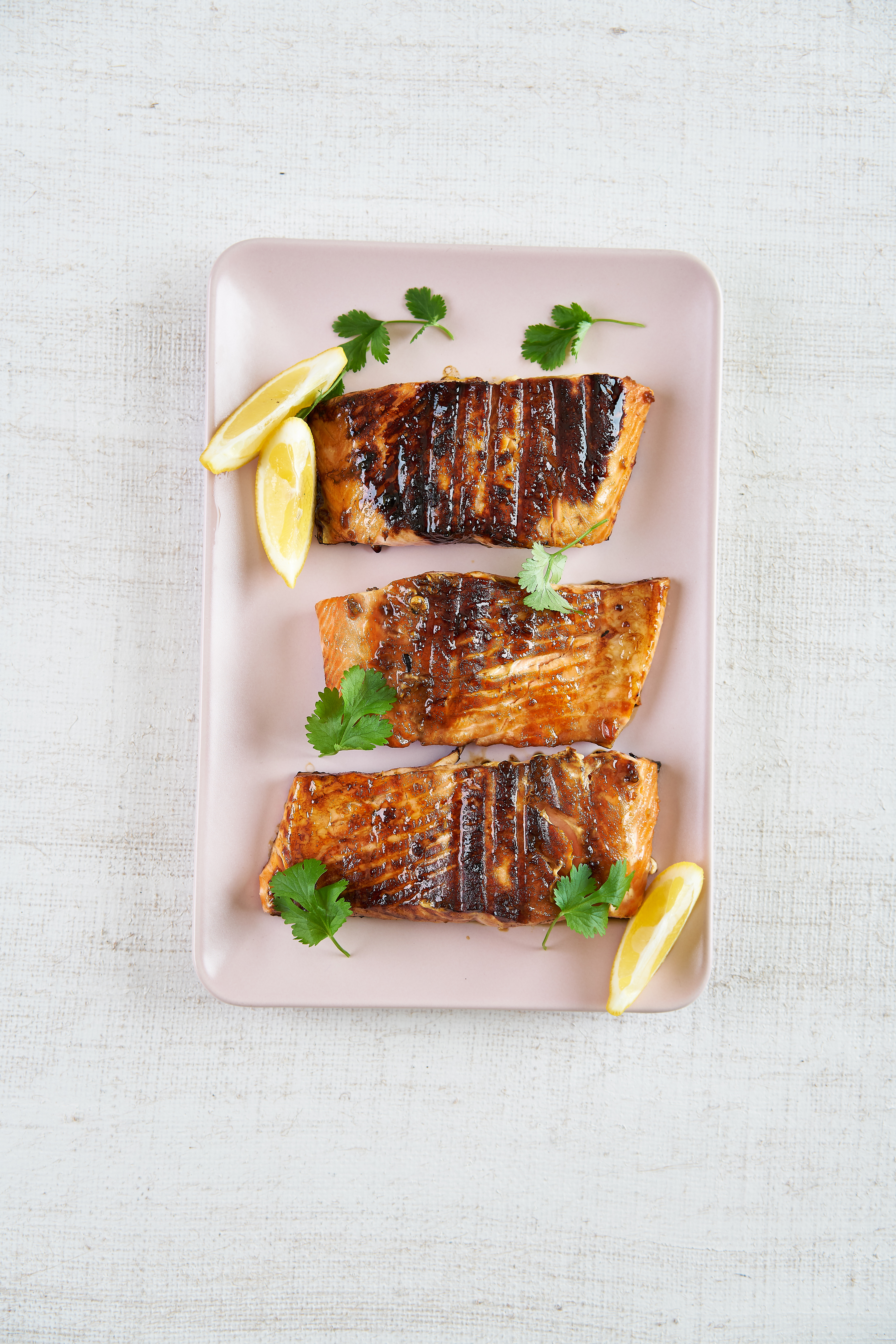 Key ingredients for the teriyaki marinade
Honey
Lemon juice
Soy sauce
Garlic
Sesame oil
This is what you need (for 6 people)
6 nice cuts of salmon fillet with skin (about 150 g per cut)
6 tablespoons soy sauce
3 tablespoons liquid honey
3 clove of garlic
2 tablespoons lemon juice
½ teaspoon sesame oil
How to
Put the cuts of salmon in a rectangular, shallow platter.
Mix all the ingredients for the teriyaki marinade and, using a brush apply it to all sides of the salmon cuts (except the skin side).
Cover and refrigerate (minimum half an hour, preferably a night).
Heat the grill plate on moderate power *.
Put the cuts of salmon, skin side down on the grill plate and cook them rosé in a few minutes *. Regularly apply more marinade on the meat side.
Tip: Check the sides of the cuts to follow cooking progress.
Finally, turn the cuts briefly with the meat side on the grill plate. The marinade will caramelize, forming a delicious and crunchy crust.
The finishing touch
Present the salmon on a plate, e.g. together with a portion of Shiitake with miso and soba noodles to keep in the Japanese spirit. Garnish with a quarter-lemon, a few leaves of Thai basil or any other colourful accent you have handy.
Good to know: Salmon says: 'take your Omega 3!' – salmon contains lots of Omega 3 fatty acids and that is good because they are essential fatty acids. That means our body needs them, but can't generate them. So we need to get it from our food. Studies show that the ingestion of Omega 3 fatty acids has a positive impact on our cardiovascular condition. So: put that salmon on the menu tonight!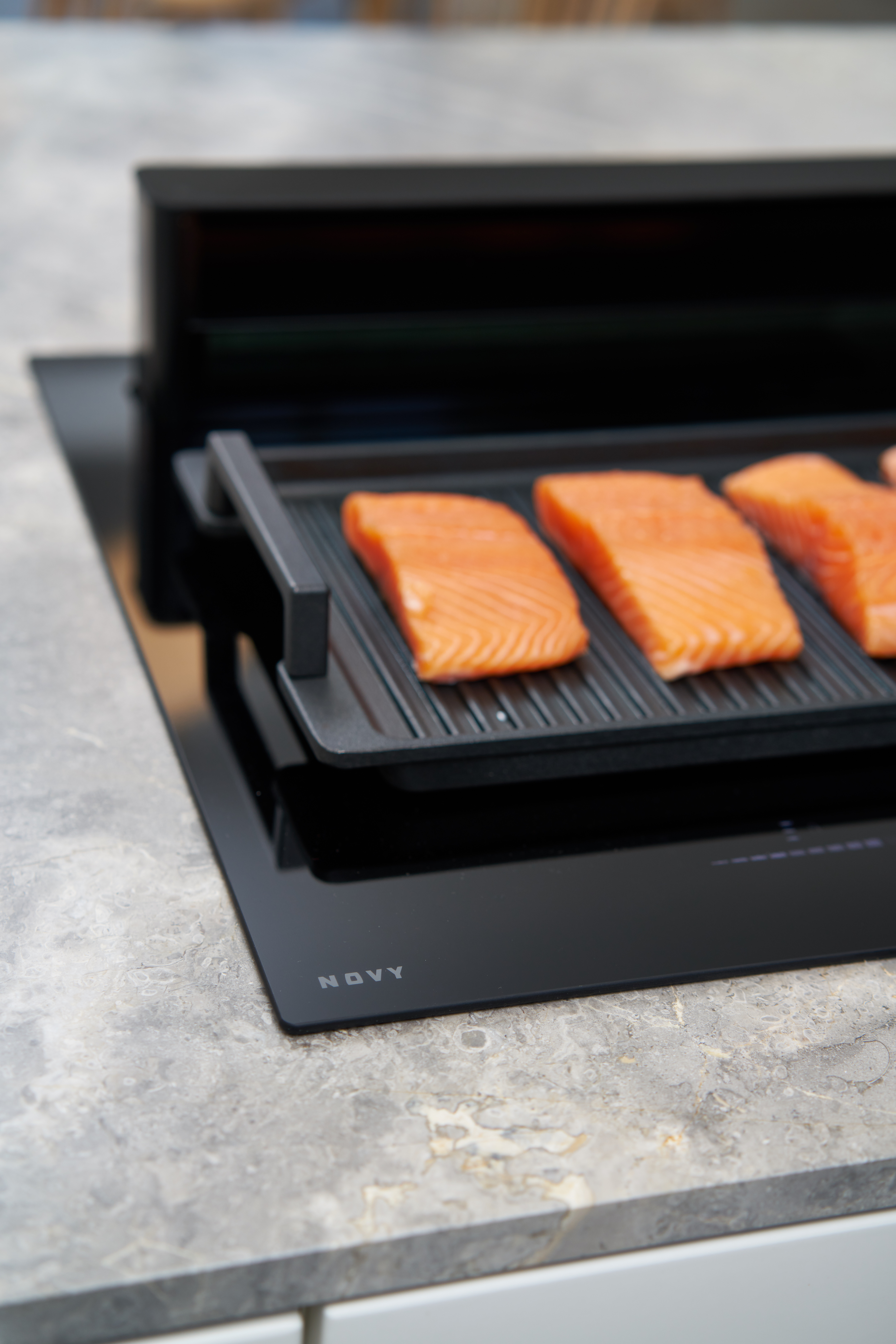 *The worktop cooker hood Novy Panorama Pro has a lot to offer if you have a fish to fry. First of all, Novy developed a grill plate especially for use on an induction hob. The silicone feet protect the induction surface from scratches and unintended movements. Second, the 'bridge' or 'grill' function activates different cooking zones (even partially) in order to evenly heat the grill plate.


The worktop cooker hood efficiently evacuates all cooking vapours. Through the recirculation system, the air is re-introduced into the kitchen, completely odour-free. The large surface of the induction hub, combined with the easily adjustable cooking zones, allow to make all preparations simultaneously, including the shiitake and the noodles.
Discover our Novy products
Find a sales outlet near you