Panorama: flexible cooking in an open kitchen
Novy has extended its range of work top cooker hoods with the addition of the Panorama. This unit consists of a hob and cooker hood in one, with the ventilation tower conveniently located at the back of the work top. A handy feature of the Panorama unit is that the ventilation tower can be positioned at heights of 10, 20 or 30 cm. Vapours are extracted immediately at the source, adjusted to the height of your pans.
This not only means extremely effective extraction, but it also leaves you with more storage space in the cabinet below and better freedom of movement when cooking with the induction hob. Of course Panorama is a remarkably quiet cooker hood, just as you would expect from Novy.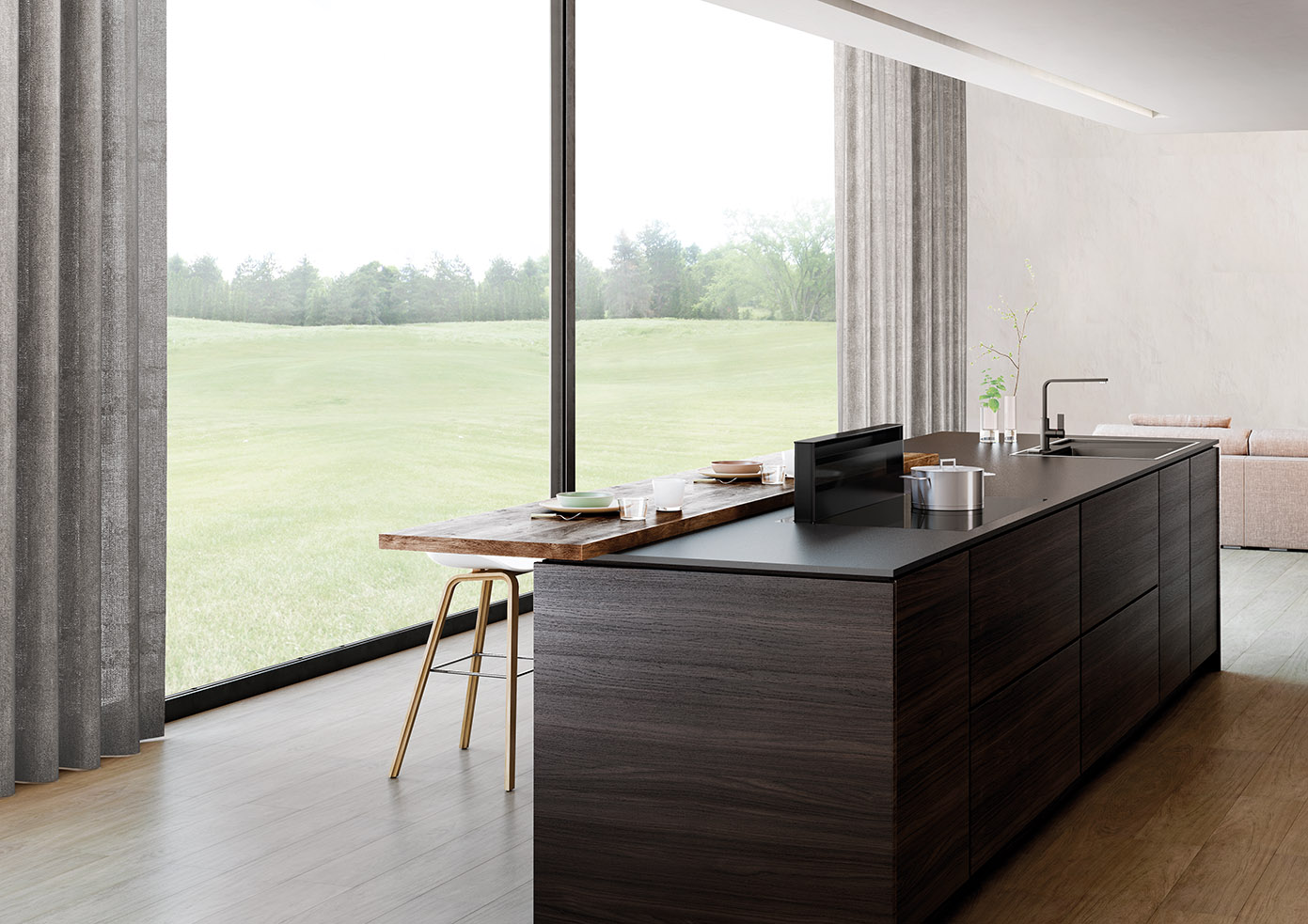 More and more of us are choosing a kitchen island or an open kitchen. But what do you do about the cooker hood? Therefore Novy added a new type of cooker hood to its range: a hob with an integrated cooker hood. It has been a great success among people with an eye for design. A hob and cooker hood of this type can be installed virtually anywhere in the kitchen, because unlike a traditional cooker hood there is no need for a ceiling or wall. So choosing a hob with an integrated cooker hood gives you unprecedented architectural freedom to plan your kitchen.
A special extraction tower
After the 'One', Novy is now launching its second hob with integrated cooker hood: Panorama. Aesthetically this unit is literally a gem. Designed for visual perfection and top quality, it comes as a sleek, black ventilation tower made of semi-transparent glass.
The useful thing about an integrated extraction tower is that the fumes are extracted immediately at the source. The special feature of the Panorama extraction tower is that it has three adjustable heights. You can choose a height of 10 cm, 20 cm or 30 cm for optimum extraction at source, depending on the height of your pans. After cooking, the ventilation tower disappears back into the hob when it is not in use. This quickly restores visual calm to your kitchen.
New: AUTO function
The Panorama unit is also equipped with the new Novy AUTO function. This ensures that the ventilation tower adjusts automatically to the commonest cooking situation, which is a pan with a height of 15 cm. With one press of the button, the Panorama unit will adjust to a height of 20 cm and switch to the optimum extraction mode. An intuitive and convenient function.
Panoramic hob
The clean, discreet lines of the ventilation tower can also be seen in the induction hob. Novy has chosen a hob in opaque glass with a limited amount of screen printing. When in use, the white slider control lights up and starts up in automatic pan detection mode. The induction hob has four powerful, octagonal cooking zones, all positioned beside each other in panorama. You can use the cooking zones separately or choose the bridge function, to create larger cooking zones.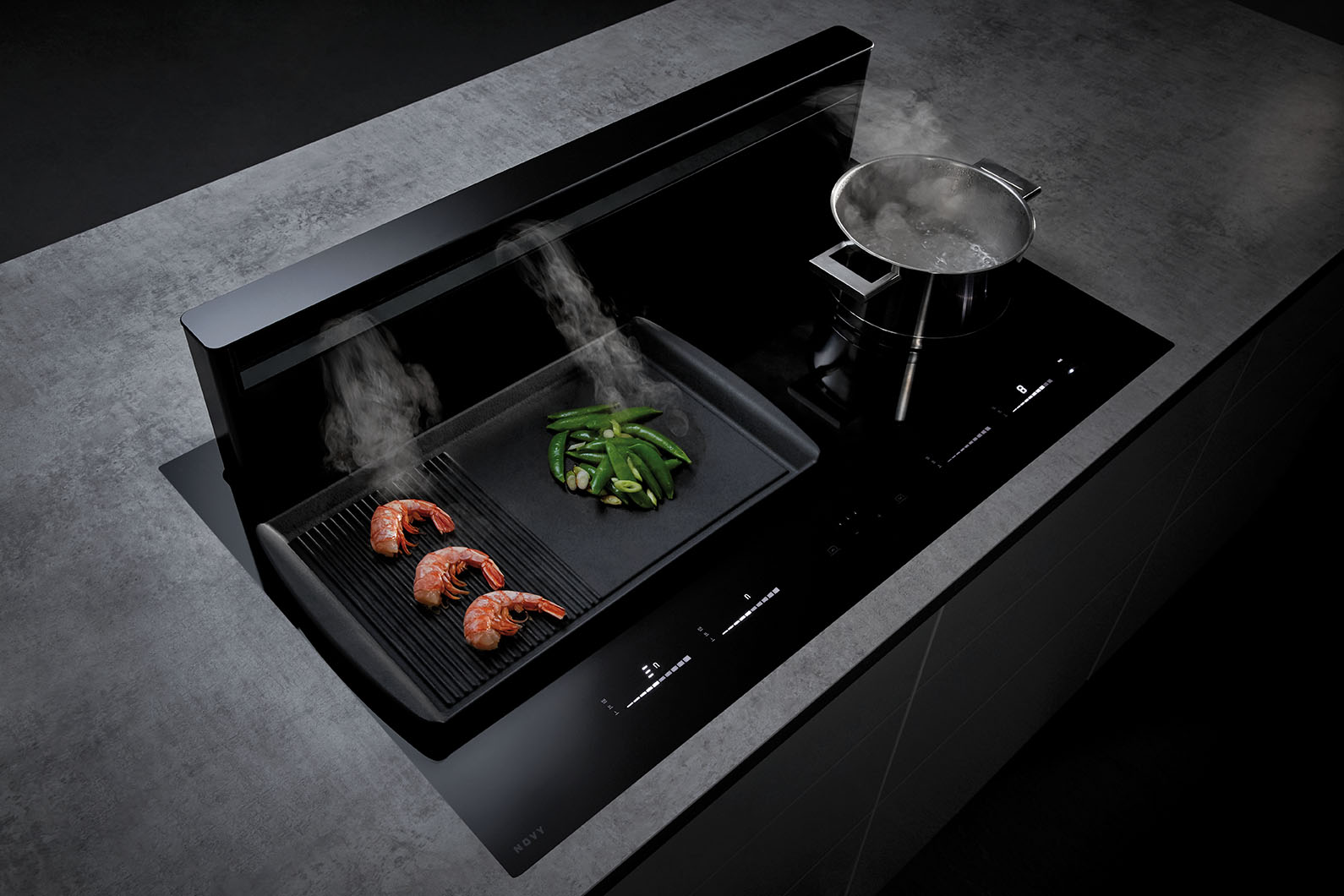 Optimal use of space
One handy aspect of the Panorama model is that it does not take up much space underneath the hob. The extraction tower is at the back, so that you can still have drawers 40 cm deep. So there is plenty of space to put away all your pots and pans.
Easy to maintain
The Panorama is easy to clean. Both the extraction tower and the hob are easy to clean after cooking. After cooking the tower disappears into the glass surface and you can remove any excess food in a single movement. Components like the grease filter require little maintenance and they are also dishwasher safe.
Outlet or recirculation?
Vapours and odours can either be removed via an external outlet or filtered out and recirculated. Recirculation is an energy-saving technique which is being used more and more in energy-efficient homes and in kitchens where outside extraction is not possible. The built-in recirculation box with monoblock filter efficiently extracts odours and returns the cleaned air to the room.
Discover our Novy products
Find a sales outlet near you