The latest kitchen trend: industrial design focused on sleek lines and smart appliances
A combination of soft and hard materials, new and traditional elements, a decorative or more refined style? Dutch interior architect, Judith van Mourik, loves contrast. The kitchen in her own house in Rotterdam is a typical example of the industrial trend based on rigid lines, polished steel and discreetly integrated NOVY appliances. The robust look, combined with frivolous accents, creates an idiosyncratic and eclectic result.
Sleek lines, modern appeal
When designing private homes, this interior architect pays particular attention to the kitchen. In her own house, the kitchen is the main hub where family members gather to cook, have a drink and catch up. Because the designer prefers more rigid lines, she opted for the industrial trend, gaining inspiration from the catering kitchens that are part of her hotel concepts. The concrete floor houses a modern polished steel kitchen island that includes a discreetly integrated seating area and innovative appliances. Low and high cupboards installed on the length of the long white wall, together with ceiling downlights, create a contemporary, modern look.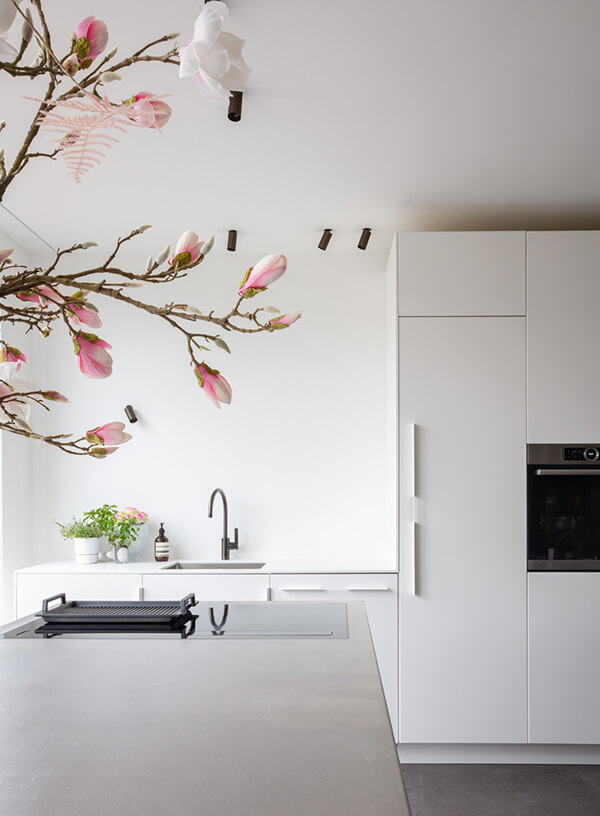 Individualistic combination of materials
What makes Mourik's industrial kitchen so special is the mix of robust, rigid elements and frivolous, warm accents and materials. The interior architect loves contrast, elegantly blending steel and concrete with ceramics, lace, marble, wood and mirrors. The result is an idiosyncratic and eclectic look in a kitchen that incorporates a freestanding island, a cupboard lined wall and a cosy seating area. It also includes a minibar, designed by the architect herself, with traditional art deco doors and a glazed cabinet, which she uses to display special objects.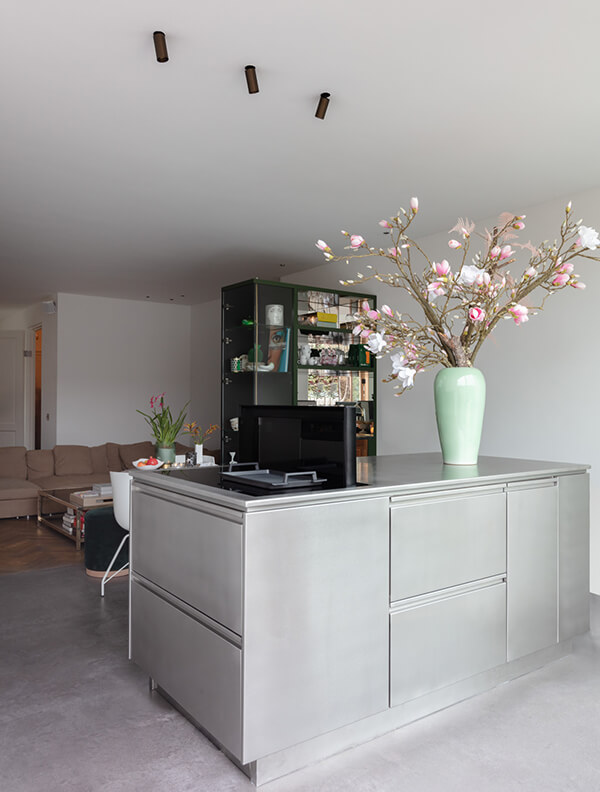 Smart worktop extraction
A freestanding industrial cooking island has been installed in the centre of the room and includes a hob with integrated extraction unit. Judith van Mourik looked at a wide range of options, including ceiling units, built-in and built-under hoods, decorative wall and island hoods and worktop extraction systems.
Novy Panorama. This type of unit, which is available in an extraction or recirculation version, provides an uninterrupted view of the hob and thus combines visual perfection with superior quality.
The beautifully designed sleek, black extraction tower in semi-transparent glass has three settings to ensure powerful and efficient extraction. It also creates more freedom of movement as it discreetly rises from the hob while you are cooking. Moreover, multiple functions will guarantee an optimum cooking experience.
Cooking on an induction hob – a contemporary approach to cooking
An induction hob not only offers many advantages such as speed, ease of use and safety, it also stands out because of its smart design. The black glass, sleek lines, slider operation based on white LEDs and subtle icons are a perfect match for the minimal look of an industrial kitchen. Induction cooking is on the up and up. It is the cooking of the future as far as Judith van Mourik is concerned. Novy Panorama is a definite hit for those who favour subtle design in quiet surroundings, because silent operation is a special feature of this smart worktop extraction system.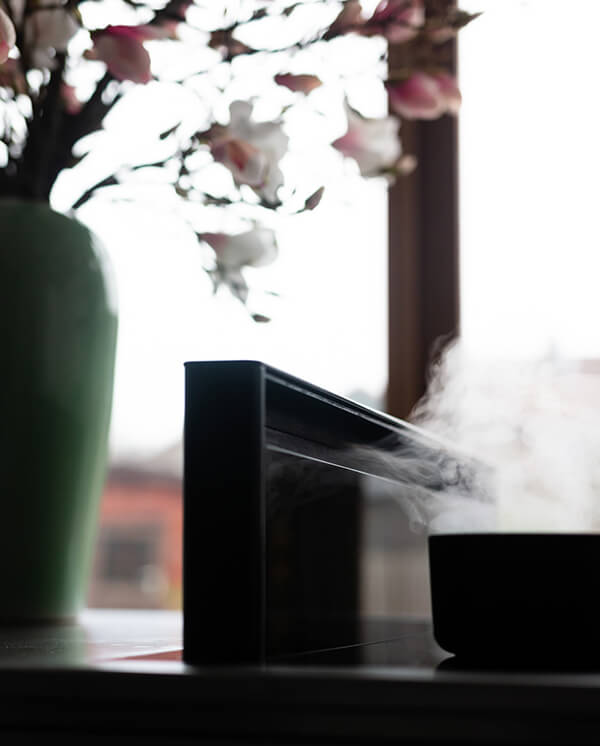 The Novy product guide will help you decide
Interior architect, Judith van Mourik, opted for worktop extraction because she likes
a sleek, industrial look
innovative technology
pure and timeless design
uninterrupted spatial perception.
Still not sure about your preference or style? Consult the Novy product guide for inspiration. This useful tool will guide you along the way in just a few steps, enabling you to decide which cooker hood and/or hob would best suit your kitchen.
Discover our Novy products
Find a sales outlet near you