Novy Pureline
Opt for functional design with a discreet integrated extractor
What do you expect from an extractor? Should it be powerful yet silent? Present, but not too conspicuous? Easy to operate, yet packed with technology? If so, an integrated extractor, discreetly built into the ceiling above your kitchen island or in a decorative niche, is the perfect choice.
Novy Pureline is the new generation of integrated extractor: discreet, quiet as a whisper and highly efficient thanks to optimised peripheral extraction. With its integrated dimmable LED spotlights and intuitive operation using remote control or the InTouch control built into the hob, this range is all about optimal convenience and endless cooking pleasure.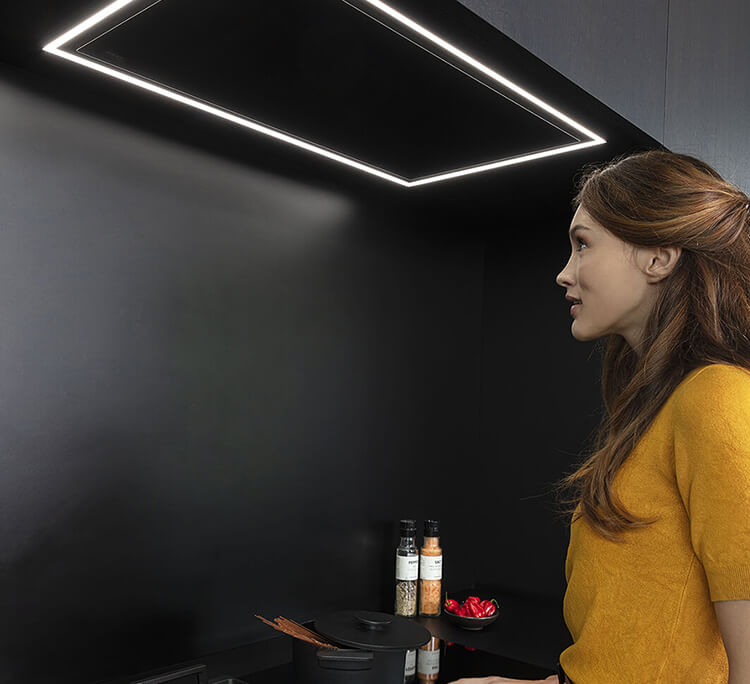 Why Novy Pureline?
Integrated extractors: strikingly inconspicuous
Minimalist look
Both the controls and the lighting are discreetly incorporated into the design. What's more, remote control is a standard feature of every Pure'Line integrated extractor. Match your extractor to the style of your kitchen and choose a finish in stainless steel, black or white.
Quiet as a whisper
Novy extractors are known for their extremely quiet and efficient operation. Thanks to its optimised peripheral extraction, the Pureline integrated extractor is quiet as a whisper, yet offers powerful fume extraction.
With or without recirculation
Opt for extraction to the outside or recirculation, depending on your home. With recirculation, the air is purified by a carbon filter with a unique coating.
Smart technology
If you combine the Pureline integrated extractor with a Novy InTouch induction hob, you can easily operate your extractor from your hob. You'll have all functions at your fingertips. Time for a clean? The extractor will indicate this itself.
Flexibility
An integrated extractor gives you great freedom in the design of your kitchen. Include your extractor discreetly in your design, either as a ceiling extractor over an island or built into a niche. Design and convenience in one.
Lighting
The dimmable dual LED spotlights are fitted completely flush into the design and are easy to operate with the supplied remote control or from your hob. As a result, additional lighting above your hob is unnecessary.
Novy Pureline: the new generation of integrated extractors
The Pureline range effortlessly combines the latest technologies with comprehensive ease of use. Attention to detail and efficient extraction are constants.
A maximum installation height of 1m60 between the worktop and the underside of the range hood.
Choice between extraction to the outside or recirculation, meaning that the air is purified by a carbon filter with a unique coating Multi-layered filters absorb both grease and unpleasant odours.
Each model is available without a built-in motor (for applications with outside motor) and with a compact or demountable motor.
Pureline is available with and without integrated LED lighting, with a width of 90cm or 120cm.
The grease and odour filters, integrated in multiple layers, are easy to remove and dishwasher safe.
The dual LED lamps are very long-lasting, being resistant to both damp and greasy fumes.

Why Novy?
Novy, inspired by quality
At Novy we firmly believe that cooking should be a pleasure. And that requires efficient fume extraction. A durable and quiet motor, unique extraction technology, a designer finish in high-end materials and extremely efficient odour removal: there are plenty of reasons to opt for a Novy integrated extractor. The Pureline range combines all these advantages with a discreet design and comprehensive ease of use.
At Novy, we have been committed to innovation, superior quality and consistent craftsmanship since 1907. That's why we give a 5-year warranty on the entire Pureline range.
Discover the Pureline range

Looking for a different solution for your situation?
Maybe Pure'Line is not the solution for your kitchen, but you're definitely looking for a ceiling extractor?
Discover our Novy products
Find a sales outlet near you