Embrace these fresh pineapple fritters
These pineapple fritters are a tasty end to a meal with friends or family.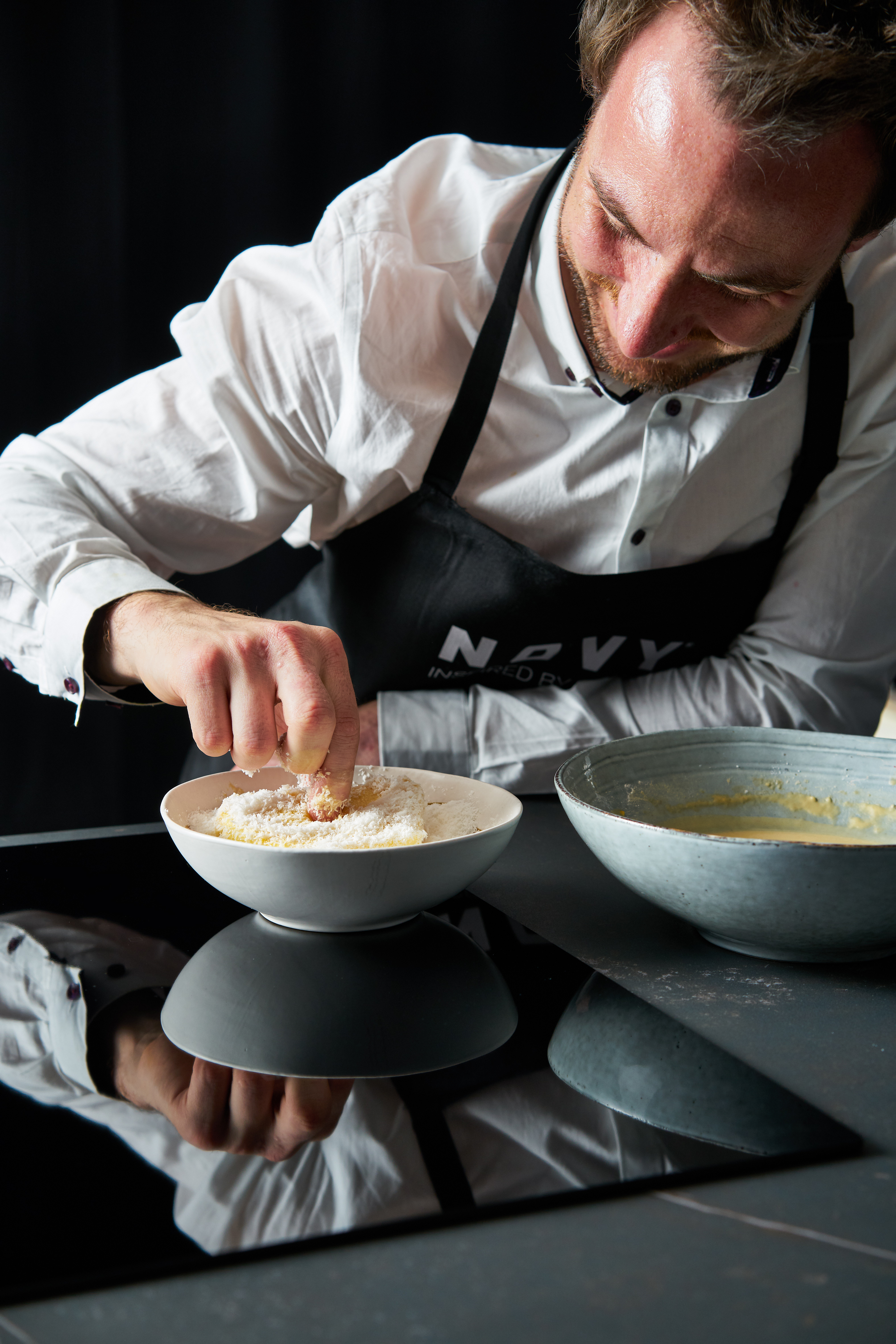 This recipe was developed in the Novy kitchen, where Cloud Black,cooker hood mounted on the ceiling, plays the leading role. Our chef Robby was inspired by the stylish design. The discreet lines with optimal functionality can be seen in the video. Thanks to the monoblock carbon filter, you can deep-fry without worrying about a strong oil smell.
Ingredients for 4 people:
125g flour
1 egg
2 tbsp sunflower oil
125 ml beer (stout)
Coconut chips
1 pineapple
Pink pepper
Mint leaves
Oil for frying

Coconut ice cream

 
Preparation:
Sift the flour over a large bowl. Make a well in the centre and add 1 pinch of salt, 1 egg and the sunflower oil. Stir from outside to inside a few times with a whisk and add the beer while stirring.
Cover the bowl with a clean tea towel and let it rest for 1 hour in a warm, draft-free place.
Heat the oil to 180 ºC in the deep fryer or a large pan. Where necessary, check the temperature with the kitchen thermometer. Thanks to the InTouch function, the hotplate from Novy communicates with the Cloud Black cooker hood without any problems. You therefore don't have to worry about bad odours.
Cut off the bottom and crown of the pineapple and cut off the skin. Cut the pineapple across the breadth into a few equal slices. Remove the hard core with a knife.
Stir the pineapple through the batter, drain and place in the deep fryer. Deep-fry in portions for 5 minutes until golden brown. Turn the pineapple when halfway.
Drain the fritters on kitchen paper.
Meanwhile, cut some pineapple into a fine tartare. Tear the mint leaves, crush some pink pepper, and mix.
Place 1 fritter on a plate, add some pineapple tartar and finish with a scoop of coconut ice cream.
Enjoy!
Watch the video here.
Interested in Cloud Black? The Novy dealer in your area will help you further with customised information. Find your local point of sale here.
Discover our Novy products
Find a sales outlet near you